NFL Draft analysts are a fickle group when it comes to quarterbacks. As we inch ever so closely to the draft, the vast majority of us have eliminated the disconnect between our analyzation of this year's top quarterback prospects.
There are no standardized rankings that we can pigeonhole these passers into, but such rankings are likely to feature Mitchell Trubisky, Patrick Mahomes, DeShone Kizer and Deshaun Watson. Each offer varied skillsets that will provide a seamless transition into specific systems, and I will break them down here.
Deshaun Watson
I start with Watson because he is my top-rated quarterback, and has been since before the draft process began. The opinions regarding Watson vary because of how tantalizing his evaluation is, performing like a top passer before some annoying aspects occur. Regardless, I'm willing to take his bad with the good because his peaks are higher than his valleys are low.
The notion that Watson doesn't read defenses is absurd considering the fact that NFL offenses feature man and zone beaters and full field reads that Clemson incorporated. However, Watson's early playing time relative to where he's drafted is important to consider if he's a high first pick as those guys are seen as immediate plug-and-play players.
Case in point, he would be best suited to play in Hue Jackson's system with the Cleveland Browns should they select him with the 12th pick and surround him with a deep threat in Corey Coleman, an X-receiver that can work at all three levels in Terrelle Pryor and an above-average tight end who can work in the red zone in Gary Barnidge.
Jackson is a great offensive mind who ties pre-snap shifts and motions into a multitude of different formations and personnel sets. While all passing offenses create one-two-three progression reads, they're much easier to work through when you employ the variety Jackson does. The play design ultimately determines where the quarterback goes with the ball, and with a quarterback as intelligent as Watson, you're able to stay on schedule and drastically mitigate the amount of bad decisions that can be had.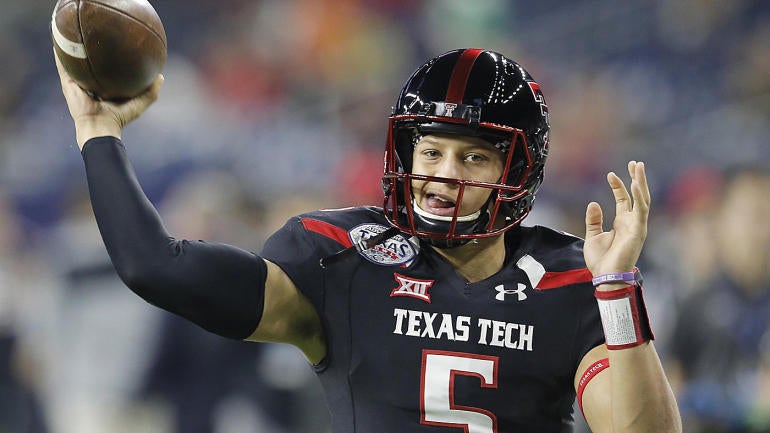 Patrick Mahomes
The Texas Tech quarterback is as polarizing as they come with the Air Raid stigma and never-ending, pressing issue of his mechanics hovering around his stock, but let's discuss both. Contrary to belief, Air Raid concepts are commonplace in NFL passing games and don't let anyone tell you differently; the issue with taking very little snaps under center is notable, but Air Raid coaches will tell you that their quarterbacks take countless snaps there during practice and are adept at doing such. Mahomes' mechanics are certainly less than ideal and some aspects need tweaking (not necessarily overhaul), but it's what works for him and has lead to very few poor outcomes.
It remains to be seen what the New York Jets will do with their quarterback situation, but the Ryan Fitzpatrick experiment failed miserably and it's clear that they don't trust Geno Smith or Christian Hackenberg, so them sitting six and taking a quarterback is any level of feasible you can envision. Offensive coordinator Chan Gailey retired in January, leading to the hiring of Saints receiver's coach John Morton. Both teams share identical systematic ideas — save for the Saints' desire to stress the seams and the middle of the field — so expect to see quite a few of the same formations and sets.
Under Gailey in 2015, the Jets went four-wide roughly one-third of the time, the most in the league. The Saints' system was predicated on unbalanced three-wide sets that created mismatches for their slot receivers on linebackers. When you spread a defense out as such, they have to account for this and spread simultaneously, making it far more to difficult to disguise blitzes and coverage rolls. These widened throwing lanes become well-defined throwing lanes that forces quarterbacks to be aware of where they're going pre-snap, an aspect of Mahomes' game that he has showcased as an anticipatory thrower with good field vision.
Mitchell Trubisky
It may have taken him longer than he wished to see the field, but Trubisky waited patiently for two years before guiding the Tar Heels' offense to eight wins. He has been the center of discussion during the draft and has been widely accepted as the class' top quarterback, but he graded out as a high second-rounder for me who will be a quality starter in the NFL.
Much has been made about the San Francisco Niners snagging Trubisky with the second overall pick, and would prove to be a seamless transition. However, his most ideal fit would be with the Kansas City Chiefs. Quarterback isn't their biggest need, but it is a need nonetheless as Alex Smith enters the third year of a hefty four-year,$68 million contract that will provide the Chiefs with a whopping $20.6 million cap hit in 2018.
Smith will be 35 years old following the final season of his contract and news came out last month that the Chiefs are not interested in picking up Nick Foles' option. General Manager John Dorsey has publicly shared his belief that this crop of quarterbacks is not ready to play or worthy of a top-10 pick. With that said, Trubisky is familiar with waiting for his chance, and it could be a perfect marriage.
Andy Reid runs a West Coast-based system predicated on being versatile and controlling the ball. Trubisky has a bigger arm and is a similar athlete, but the two still draw parallels and would allow Trubisky to thrive.
This system incorporates a full route tree and a variety of formations that require quarterbacks to be concise and deliberate with their reads while featuring a bevy of underneath routes that create opportunities to generate offense, aspects Trubisky has mastered. Reid is a great play designer who can attack specific coverage, but over time Smith has struggled to target tight windows at the intermediate level with notable struggles maneuvering the pocket — issues unlike his potential successor.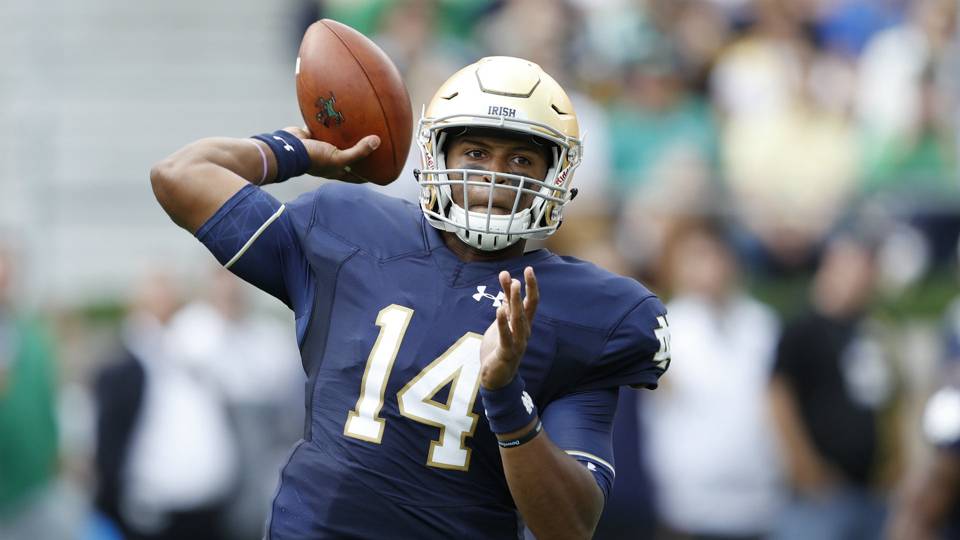 DeShone Kizer
Finally, we get to Kizer, the former Notre Dame passer who visibly regressed from 2015 to 2016. Kizer publicly admitted he lost confidence as a freshman, and likely suffered a lull in his abilities this past season when head coach Brian Kelly benched him for former starter Malik Zaire and criticized Kizer's play following an embarrassing loss to Duke in which the signal caller threw for 381 yards and two touchdowns (against one interception) and lead the team with 60 rushing yards and another score on the ground. Kizer's size will enamor most teams, but his regression and lack of confidence affected all aspects of his play.
Kizer's big arm, ability to stay throw-ready, hang tough in pressure and read the whole field would be best suited in the Arizona Cardinals' aerial attack that likes to stretch the field. Incumbent Carson Palmer completed 63 percent of his passes and threw for more than 4,000 yards in his first year in Arizona but also posted a 24:22 TD:INT ratio a year before tearing his ACL six games into the season.
He came back strong in 2015, but took a leap back this past season. He recently signed a one-year extension with receiver Larry Fitzgerald which is a strong indicator that both will be calling it quits after this season. Behind the 37-year-old are Zac Dysert and Drew Stanton, average backups with very limited starting potential.
Because they love to go empty and threaten the defense with a bevy of options, quarterbacks in their system have to be prepared for five-on-five or defensive plus-ones, both aspects that support the defense's desire to get to the quarterback. Kizer has done a good job recognizing these pre-snap looks and understands that he has to get the ball out in a hurry when pressure is bearing down; when he has more time, it doesn't quite look the same. To help mitigate these concerns, Bruce Arians and Co. incorporate five- and seven-step drops off of play-action in which the running back will stay in to protect while Palmer's 10.8 yards per attempt off of PA in 2015 ranked second in the NFL.
The system is essentially an Air Coryell-based system that features intermediate-deep attacks with backside options that manipulate the one-on-one matchups the heavy reliance of 3×1 sets manufactures, while going empty gives the defense four to play five. Quarterbacks have to be adept at working through the progressions and understand that the majority of the deep shots are naturally going to come off of play action.
It would serve Kizer well to sit behind Palmer for a year and learn the nuances of the system, while Mahomes could certainly be in play at pick 13 if they don't wish to spend a second rounder on the Fighting Irish quarterback.