Photo credit: Business Insider
The Minnesota Vikings magical season came to a disappointing end last month in a 38-7 loss to the Philadelphia Eagles in the NFC Championship Game.
Immediately the question that came up was who will start at quarterback next season.
Case Keenum had a nice season with 22 touchdowns and seven interceptions in his first year with the team, but will be a free agent along with Sam Bradford and Teddy Bridgewater.
Keenum was a career backup before this season and worked well with former offensive coordinator Pat Shurmur. Can he repeat his performance next year without Shurmur? That is a big if.
It will be shock if Bradford is brought back. He is good, but is injury prone and may not play for much longer.
Bridgewater also is a big question mark. In the past two seasons, he has only played once and it was in garbage time. The 2014 first round pick showed some promise in his first two seasons and looked like a potential franchise quarterback. He was looking good in the 2016 preseason before tearing his ACL and dislocating his knee during practice a few days later.
It was unknown at the time whether his career will ever continue. He was active after the bye week but only attempted one pass due to Keenum's performance.
If the Vikings were rebuilding it would make plenty of sense to throw Bridgewater in and see if he can return to form, but given that they are coming off an NFC Championship Game appearance, it would not be worth it. Would he cheaper than Cousins and Keenum? Big time, but given how far they went last year and still got a very good team heading into 2018, they should go for the best option available.
Kirk Cousins is the one who makes the most sense.
Will he cost a lot? Yes. Will he cost more than he is worth? Yes, but so will Keenum.
Good quarterbacks always cost a lot. It's just how it is. Keenum won't come cheap either. The Vikings though do have the money to get Cousins. Even if he costs $30 million a season, they will have nearly $50 million to spend according to overthecap.com and have all of their core players signed through next season. They would also save $6.75 million by cutting defensive tackle Sharrif Floyd.
Stefon Diggs, Anthony Barr and Eric Kendricks are due for extensions soon, but even if they sign Cousins, they can still keep all three. It would definitely be more difficult, but doable. Executive Vice President Rob Brzezinski has done a great job managing the salary cap over the past 17 seasons. Contracts can also always be restructured.
The New York Jets will have over $70 million to spend and are rumored to have strong interest in the quarterback.
The Jets are reportedly considering an offer for Kirk Cousins that would include $60 million guaranteed in his first year 😳 (via New York Post) pic.twitter.com/z4M48eUkBT

— FOX Sports: NFL (@NFLonFOX) February 21, 2018
Cousins has said he cares more about winning, but if the Jets really give him a much bigger offer it may be very tough for him to say no.
Free agent QB Kirk Cousins making the rounds today. His repeated message in choosing a team: "It's all about winning. If you're not winning, the rest doesn't matter. If you are winning, it's all that matters."

— Tony Grossi (@TonyGrossi) February 2, 2018
If the Vikings offer him $25-$27 million a year and the Jets offer him $30 million, maybe he could consider the Vikings more given that the were just in the title game. The Jets on the other hand were 5-11 in each of their past two seasons and have not made it to the playoffs since 2010.
We have seen some players take less money to play for teams they felt would be better (Alshon Jeffery took less last year to sign with the Eagles instead of the Vikings), but it is normally very hard for them to pass up on the best offer. Cousins has not won a playoff game yet, but he is also 29 years old (not old, but not very young either).
Free agent QB Kirk Cousins making the rounds today. His repeated message in choosing a team: "It's all about winning. If you're not winning, the rest doesn't matter. If you are winning, it's all that matters."

— Tony Grossi (@TonyGrossi) February 2, 2018
The Vikings are built to contend for a Super Bowl right now and Cousins gives them the best shot. Unless you are the New England Patriots, chances at competing for a Super Bowl do not come around too often. The Vikings were knocking on the door before heading to Philadelphia.
Also, Everson Griffen will turn 31 soon, Linval Joseph will turn 30 and Harrison Smith is 29. Riley Reiff who is coming off his first year with the team will also turn 30 during the season.
Both parties would be a good match for each other. Cousins would benefit from having a very good defense for the first time in his career, along with having Diggs, Adam Thielen, Kyle Rudolph and Dalvin Cook.
He did have DeSean Jackson and Pierce Garcon in 2015 and 2016, but not this past year. He has not had a very good running game either. The Redskins have a good offensive line, but had plenty of injuries this past season. The Vikings offensive line improved dramatically this past season and could be even better next year.
He had a good supporting cast overall in Washington, but this year it was not as good. Overall, he would benefit more with the Vikings.
The Vikings have not made it to the Super Bowl in 41 years. One of the biggest reasons for that has been the quarterback play. They have not made it back to the big game since they had someone by the name of Fran Tarkenton. Coincidence? No. You usually need stability at quarterback to compete for a ring. Is the lack of having a long-term quarterback the only reason for them not playing in the Super Bowl for that long? No, but it is a huge reason for it.
Daunte Culpepper looked like he was going to be their guy for years to come, especially after having a great 2004 season, but he had a rough 2005 season and later tore his ACL and did not play another game with the Vikings. Tarvaris Jackson and Christian Ponder did not pan out. Warren Moon, Randall Cunningham and Brett Favre were just short-term solutions. Tommy Kramer appeared in 128 games (110 starts) from 1977-1989. He was not great, but still good and gave them stability.
Only 4,000 yard passing seasons in #Vikings history:

2004: 4,717 (Daunte Culpepper)
1994: 4,264 (Warren Moon)
1995: 4,228 (Moon)
2009: 4,202 (Brett Favre)

Kirk Cousins:
2017: 4,093
2016: 4,917
2015: 4,166 pic.twitter.com/pjDRGUTYPO

— Ali Siddiqui (@asiddiqui15) February 15, 2018
Yes, we did see Trent Dilfer and Brad Johnson win a Super Bowl, but often do you win with average quarterbacks? Not too often.
Cousins is the right choice and would give the team a good quarterback for at least five years. Since becoming the Redskins full-time starter in 2015, he has thrown 81 touchdowns and 36 interceptions.
Very rarely do quarterbacks of Cousins' caliber become available. The Vikings should definitely jump at this opportunity. No guarantees they will find a good one in the draft anytime soon too. If they cannot land him, Keenum is a good backup option though.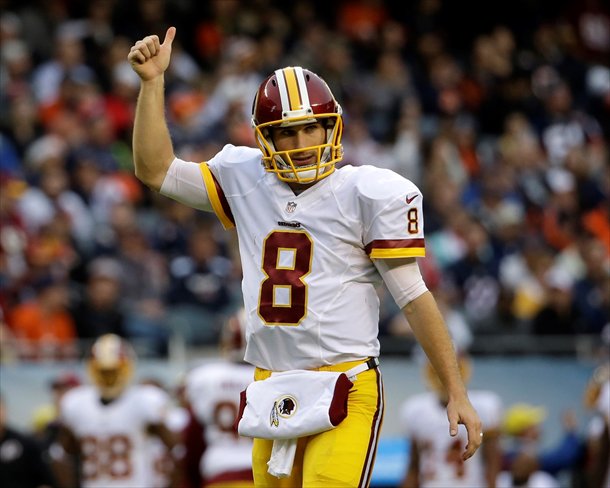 You can follow Ali Siddiqui on Twitter @asiddiqui15 and @SPOT_Vikings for Vikings news and updates.