"They are who we thought they were". That term is one that can easily be thrown around after this past weekend's NFL slate of games.
"They are who we thought they were". That term is one that can easily be thrown around after this past weekend's NFL slate of games. Teams that a good portion of you were bitching and moaning about being too low and being so much better than this team and that team, ends up exactly what they are HIT OR MISS. One thing is clear, that there is no definite number one team in football. Weaknesses have been exploited in every team, in every tier, and every division across the league. Whether you are Seattle being weak in the front seven, Indianapolis being as consistent as Carrie Matheson's pregnancy tests, Denver having Arianna Jolie sized gaping holes in the offensive line, or San Francisco sputtering like a 1978 Ford Pinto on offense. It really is anyone's title to win right now.
* THESE RANKINGS ARE BASED NOT JUST ON RECORD, BUT OVERALL PERFORMANCE AND STRENGTH OF TEAM.
1) Kansas City Chiefs (9-0) – We see what the Kansas City Chiefs are made out of over the next three weeks. I think they get blown out in Denver, but what do I know?
2) Seattle Seahawks (9-1) – That is what good teams are supposed to do against weak teams. Marshawn Lynch broke free for his biggest performance on the ground of the season and Golden Tate may be the best receiver in the division this year.
3) Denver Broncos (8-1) – Peyton Manning's leg/ankle should be fine. It better be or losing The Sheriff will hurt even more than losing their head coach for any period of time.
4) New Orleans Saints (7-2) –Drew Brees went Jessica Lange in American Horror Story style last night on the Cowboys. Burn the Witch!
5) New England Patriots (7-2) – Tom and Giselle were posting pictures on Instagram at some island you and I probably can't even pronounce. Let's hope she didn't work him out too much, and comes back rested to make a playoff run in the second half.
6) Carolina Panthers (6-3) – Carolina is playing probably the best football in the league over the last month.
7) Indianapolis Colts (6-3) – All of you Colts blowhards who think they should be ranked first in these rankings, where should they be now?
8) Detroit Lions (6-3) – Terry Bradshaw said he'd take Matthew Stafford over any quarterback in football. I am not sure I'd agree with him, but he is in the discussion for guy I'd start my team around.
9) San Francisco 49ers (6-3) – Well the blood bath that I was hoping for against Carolina came to fruition. Sadly for San Francisco, their one weapon of recent weeks in the passing offense went down with scrambled eggs in his head.
10) Cincinnati Bengals (6-4) – Cincinnati still holds a game and a half lead in the AFC North. The Ginger needs to start getting rid of the ball faster and throwing to guys other than AJ Green.
11) Dallas Cowboys (5-5) – Jerry Jones flat out said they made the wrong move dumping Rob Ryan for Kiffen. I'd say that is an affirmative Ghost Rider.
12) Chicago Bears (5-4) – Jay Cutler came back too soon. He should have taken a page out of his wife's handbook and decided to make a comeback when he was good and ready.
13) Green Bay Packers (5-4) – Things are going from bad to worse in Green Bay.
14) New Jersey Jets (5-4) – Jets have a must win in Buffalo this weekend. These are games they need if they want to make a push for the wild card.
15) Arizona Cardinals (5-4) – Arizona will finish the season with no more than seven wins. Remember this line come Week 17.
16) Philadelphia Eagles (5-5) – Nick Foles has 16 TDs and 0 interceptions. Enough said…
17) Baltimore Ravens (4-5) – Baltimore not only got lucky on Sunday, but kept their season alive…. barely.
18) Tennessee Titans (4-5) – People's knockout pools across the country were cut down immensely after the Titans literally handed the game away to the Jaguars.
19) San Diego Chargers (4-5) – San Diego has major concerns on the offensive line.
20) St Louis Rams (4-6) – Tell me you saw that one coming on Sunday, and I'll punch you in the face.
21) Miami Dolphins (4-5) – A situation like the Martin/Incognito one can do one of two things, bring a team together or spread like wildfire. Based on last night's game, it is the latter.
22) Cleveland Browns (4-5) – Can Jason Campbell right this team after a bye week?
23) Washington Redskins (3-6) – Washington amazingly is only a couple games out.
24) New Jersey Giants (3-6) – The Giants are still only two games out of first place in the NFC East.
25) Pittsburgh Steelers (3-6) – Mike Tomlin may have been coaching for his job on Sunday.
26) Buffalo Bills (3-7) – Buffalo mustered 10 points against a Steelers team that let up 55 to the Patriots last week.
27) Oakland Raiders (3-6) – Oakland needs to find a way to win on the road if they want to contend any time soon.
28) Minnesota Vikings (2-7) – AP is an animal and I'd be afraid to tackle him. Yes, I said it.
29) Houston Texans (2-7 ) – Arian Foster gone for the season, just about sums up life in Houston.
30) Atlanta Falcons (2-7) – Matt Ryan is being exposed as a guy who needs weapons, not a guy who can make underachieving players good.
31) Jacksonville Jaguars (1-8) – Jesus, Mary, and Joseph!
32) Tampa Bay Buccaneers (1-8) – Bucs have been competitive the last few weeks, and finally got their first win on Monday Night.
Feedback is always good, so feel free to comment here or email me directly.
Follow my Twitter handle at @mikeprocopio.
Or just email me at mike.procopio@gmail.com
Oh, and I promised you our Gridiron Girl of the Week. Here she is, compliments of our friends over at BleacherReport.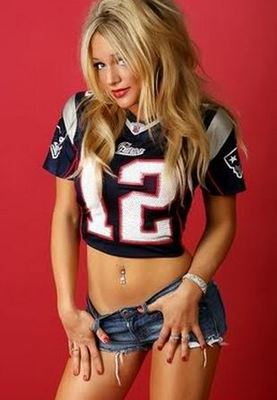 ---
Report Article