Here is part two of my Chicago Bears All-Time team series where I name the starters on the defense and special teams.
DEFENSE
DEFENSIVE ENDS
Dan Hampton
1979-1990
Nicknamed Danimal, Dan Hampton was the key cog of the defensive line on the Bears great 46 defenses of the 1980's. His ability to play all 4 defensive line positions at a Pro Bowl level made him one of the most feared defensive players of his time. John Madden once said, "If Hampton was ever 100% healthy, they would have to make him illegal."
Richard Dent
1983-1993, 1995
The 8th round pick from Tennessee State would go on to become one of the greatest draft steals in NFL history. One of the premier pass rushers of his time, his 124.5 sacks as a Bear make him the organization's all-time leader in this category. Along with Dan Hampton, he was a key part of the 1985 Super Bowl champion team and was even the MVP of Super Bowl XX.
DEFENSIVE TACKLES
Fred Williams
1952-1963
Williams is one of the more unheralded players in team history. He was a 4 time Pro Bowler who was a key part of the Bears team that played in the 1956 NFL Championship game and also was a starter on the 1963 NFL Championship winning team.
Steve McMichael
1981-1993
Mongo as he was known was one of the better interior pass rushers of his time. A starter on those great Bears defenses of the 1980's, including the 1985 team that won Super Bowl XX. He finished his Chicago career with 92.5 sacks and had 3 seasons of ten or more sacks to his credit.
OUTSIDE LINEBACKERS
Joe Fortunato
1955-1966
Fortunato is one of the best players in team history not to be enshrined in the Pro Football Hall of Fame. In his 12 years with the team he went to five Pro Bowls and three times was named first team All-Pro. While teammate MLB Bill George got the most attention, Fortunato's contributions should not go unrecognized.
https://sp.yimg.com/ib/th?id=HN.608037674182249008&pid=15.1&P=0
Lance Briggs
2003-PRESENT
Briggs is similar to Fortunato in the sense he played for many years in the shadow of a Hall of Fame linebacker. In Briggs's case it was Brian Urlacher. Briggs has been to the Pro Bowl 7 times and has been a star and leading force on some great Bears defenses for over a decade.
MIDDLE LINEBACKER
https://sp2.yimg.com/ib/th?id=HN.608046431621285210&pid=15.1&P=0
Dick Butkus
1965-1973
The one position that has been defined by the Chicago Bears organization is middle linebacker. While others such as Bill George, Mike Singletary and Brian Urlacher have had Hall of Fame careers at the position, only one man IS the position and is still to this day widely viewed as the measuring stick of the position. In just 9 seasons, he was an 8 time Pro Bowler and 5 times a 1st team All-Pro. He was named to the NFL's 1960's and 1970's All-Decade team as well as the NFL's 50th and 75th Anniversary teams. When you look up the definition of a Monster of the Midway, you are sure to find a picture of Dick Butkus staring at you.
CORNERBACKS
https://sp1.yimg.com/ib/th?id=HN.608035913250769137&pid=15.1&P=0
Charles Tillman
2003-PRESENT
While Peanut has been under rated by league circles throughout his career, Bears fans and the organization understand just how great of a player he has been over his 11 seasons. Perhaps no player better epitomized Lovie Smith's philosophy of forcing turnovers to create offense. Tillman may be the best CB ever at stripping the ball from opposing players.
https://sp.yimg.com/ib/th?id=HN.608033297608672692&pid=15.1&P=0
Donnell Woolford
1989-1996
Woolford was a skilled corner who, while only being a Pro Bowler once, played at a high level throughout his career with the team.
SAFETIES
Rosey Taylor
1961-1969
While other safeties of the time such as Willie Wood and Larry Wilson got all the attention, Taylor was a great player during the 60's. He was the best secondary player for the team during the decade and was a key part of the 1963 NFL Championship winning team.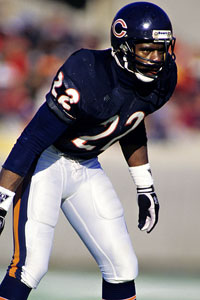 Dave Duerson
1983-1989
Duerson was a part of the great draft class of 1983. He didn't get the chance to start until 1985 but when he did he certainly made the most of it. He was a 4 time Pro Bowler and a key starter on the Bears Super Bowl XX Championship team.
SPECIAL TEAMS
KICKER
https://sp1.yimg.com/ib/th?id=HN.607991125332920313&pid=15.1&P=0
Robbie Gould
2005-PRESENT
An undrafted free agent out of Penn State, Gould has been a steady force for the Bears special teams since 2005. He is the active leader in field goal percentage in the NFL. Bears fans can pretty much count on three points every time he tries a field goal.
PUNTER
Brad Maynard
2001-2010
Former General Manager Jerry Angelo's first free agent signing in 2001 will always be perhaps his best. Maynard was a key part to what the Bears did during the 2000's, focusing on building a championship caliber team through great defense and special teams play. Maynard was a very good directional punter who did a good job of changing field position in the favor of the Bears.
KICK RETURNER
https://sp1.yimg.com/ib/th?id=HN.608029509453547229&pid=15.1&P=0
Gale Sayers
1965-1971
While many know the Kansas Comet for his spectacular yet short career as a ball carrier, many forget that Sayers was also a premier return man of his time. He had 6 kick returns for TD's which is 3rd most in NFL history. He finished his career with an average of 30.6 yards per return which is the best per yard average in NFL history.
PUNT RETURNER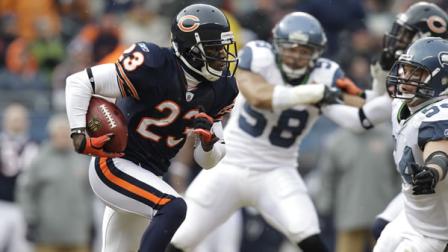 Devin Hester
2006-2013
This is pretty much a no-brainer. His 13 punt return TD's are an NFL record. His 19 total return TD's are also an NFL record. Hester changed the NFL as every team was trying to find a returner who could impact their team in a way that he did for the Bears. He also forced other teams to just flat out avoid kicking to him for fear of what he can do. Not only is Hester the greatest returner in team history, he is the greatest return specialist in NFL history.
Let me know what you think of my roster.
Follow me on Twitter: @pfspot_Schlegel
Check out my NFL videos on YouTube at:
http://www.youtube.com/schlegdaddytv
Wrestling fans should check out my work at:
---