Pro Football Spot's Joshua Gleason had a chance to talk with Laurent Duvernay-Tardif, an intriguing NFL Prospect who hails from north of the border and whose life has involved much more than just football.
Laurent Duvernay-Tardif is a name still flying under the radar to the average football fan in the United States, but he is well-known among those that are a fan of the Canadian game. An offensive tackle from McGill University, his play in the Canadian Interuniversity Sport (CIS) has garnered the attention of NFL scouts.
Currently, Duvernay-Tardif is competing in the 89th annual East-West Shrine Game. To those that follow the NFL Draft religiously, they know that it speaks volumes to the kind of talent a player has if they are invited to this event. For a player from the CIS, it is an even bigger honor.
Duvernay-Tardif is one of only two CIS players at the Shrine Game this year and just the fourth from McGill to play in the East-West Shrine Game. The last to do so was defensive tackle Randy Chevrier, who was ultimately drafted by the Jacksonville Jaguars in the seventh round. Chevrier went on to play 13 games combined with the Cincinnati Bengals and Dallas Cowboys before heading to the CFL and winning two Grey Cups.
The Quebec native began to garner attention before the season, when he was anointed as the number one prospect for the CFL Draft.
"It adds a bit of pressure," said Duvernay-Tardiff on the ranking in an exclusive interview.
Now, Duvernay-Tardif remains the top prospect for the CFL Draft, something he can be proud of knowing he got the job done this season.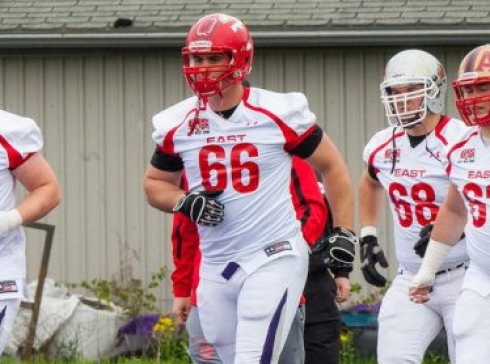 "Now that I am still number one, I did what I had to do and now that I'm done with school I can focus more on football," Duvernay-Tardif stated.
It has not been the typical path that most take to becoming a coveted NFL prospect. First off, the high majority of NFL players are from the United States. According to a study by Business Insider in 2011, 96.5 percent of the active NFL players are Americans.
How many players did Duvernay-Tardif's home country of Canada have? Seven.
Specifically, Duvernay-Tardif grew up in Quebec. His first language is French and while he does have some hiccups, he does know how to speak English quite well.
Duvernay-Tardif had a different childhood than most. The only team sport he played before football was soccer, something he said he got "too big" to play. Duvernay-Tardif's parents owned a bakery, which was a place he and his family spent time at, working and going there to focus on his studies as well.
"It is a place where we all get together," said the potential NFL player. "It creates some strong link in the family."
His family would generate a stronger link when they left Canada, going for two years to live on a sailboat.
"A lot of experiences, good and bad," Duvernay-Tardif said with a laugh. "Something I will never forget."
Duvernay-Tardif elaborated that the boat was rather small and that they went from Montreal to the Bahamas. They had to go fishing and eat what they caught. Most have been on the typical camping trip where they had to hunt, fish, and/or pick berries to eat, but Duvernay-Tardif had an experience not quite like any other.
On the gridiron, Duvernay-Tardif has taken a different path as well. He originally came to McGill at 253 lbs. as a freshman on the defensive line. He was switched to offensive tackle as a sophomore and began to add weight, ending up at 6'5" and 315 lbs. as a senior. Most of that weight was added was good weight, as there is video of Duvernay-Tardif benching 225 lbs. 31 times, and he was able to do 34 reps at the CFL Combine, a number that would have been good for fourth amongst offensive lineman at last year's NFL Scouting Combine.
"Physically he is very impressive and had a very good showing at CIS East-West Game," a CFL scout told Justin Dunk of CFL.com. "He looks like a CFL offensive linemen right now."
"I have a good football size to be on the offensive line," said Duvernay-Tardif. "I don't have as much technique because I am not there every day. Just watching a lot of film to know what is going to happen and how to react. Prepare for every situation."
Studying game tape is a major part of Duvernay-Tardif's game. He says that the game "is a good mix between strategy and training" and that he "really likes to watch film."
"It is amazing when you're ready to play the opponent and know what they like to do," said Duvernay-Tardif on why studying the opposition is important to him. "Battle of the line and you faceoff with your defensive end and you kind of know what he is going to do.
The two-time co-captain for McGill also said he enjoys the "team spirit" of the sport and most of all he likes "to win the games." Duvernay-Tardif would certainly help his school, going onto start 26 consecutive games on the offensive line after dressing for six games and starting three on the defensive line as a freshman. He helped McGill finish second in total yards this year in the Réseau du sport étudiant du Québec (RSEQ; French for "Quebec Student Sports Network) in total yards (487.2 per game) and passing yards (326.9 per game).
For his play, Duvernay-Tardif was honored as a Russ Jackson Award finalist, the award honoring excellence in football, academics, and citizenship, and won the J.P. Metras Trophy for most outstanding down lineman in CIS. He was only the second lineman in McGill history to win the award, the other being Chevrier.
In addition to having to balance the rigorous schedule of being a college football player, Duvernay-Tardif major was medicine and on top of that, he spent a lot of time volunteering. In 2012, he volunteered with a Montreal police department program known as "Unité sans violence, exprimez-vous!" (United Without Violence: Express yourself!), designed to keep troubled youths off the street and encourage them to play sports. Duvernay-Tardif also worked with heroin addicts at a methadone clinic and made numerous visits to local high schools where he has lectured on the dangers of drug abuse and the prevention of sexually transmitted diseases.
"Part of medicine but it's completely different," Duvernay-Tardif said on the work he did volunteering. "Basically treating people who are living in the streets. "It is really special. You try to help them as much as you can but sometimes it is just not possible."
Duvernay-Tardif described some of his work with the police station and how there were always problems to be faced. He said how they had to give them "methadone so they don't get a buzz and don't get into withdrawl."
"They don't have the same education, the same background," a sympathetic Duvernay-Tardif on the patients. "They use their money to get their shots. We can help them."
Despite the time being spent in football and volunteering, Duvernay-Tardif was still able to maintain a 3.92 GPA. He was honored on the 2013 CoSIDA Capital One Academic All-District football team, only the third McGill football player to ever receive the honor. He was also honored as an Academic All-Canadian.
"Every year it's a bit harder," Duvernay-Tardif said on balancing all the responsibilities. "It is really nice because there is a lot of people that are good on the field or have good academics. To do both well at the same time is important for me and I was really honored."
After spending days in which he would have to be to a football meeting by 6:30 a.m. and then have practice, school, and work all in the same days, sometimes even working overnight, Duvernay-Tardif can now focus on football, something he has not had the chance to do.
"I don't really know what is like to play 24 hours and think football 24 hours," said Duvernay-Tardif on this new chapter in his life. "I still have a lot to learn. I think that's why I have a lot of interest from NFL teams."
In addition to showing off what he has in front of scouts at the East-West Shrine Game this week, multiple NFL scouts have been to McGill to watch Duvernay-Tardif practice. NFL teams have told him that he moves fast for his size but that his technique needs to be coached up. Ultimately, Duvernay-Tardif wants to make it in the NFL.
"I think every athlete wants to play at the highest level and for football that is the NFL," Duvernay-Tardif said.
Duvernay-Tardif says that if the NFL does not work out, the CFL would be fine by him and that when he is done playing, he would like to be a sports doctor. For now, he is focused on seeing whether or not he can make it in the NFL.
"And that's the big question and that's why I want to try it. I'm interested to see how things are going to go. We will see what my real value is."
All quotes were obtained firsthand unless otherwise noted. For more, follow Joshua Gleason on Twitter (@JGleas)
---