Management is about making the difficult decisions, having the conversations that no one envies. It is important to view situations as objectively as possible and remove emotion while assessing the overall execution of your team. The NFL is the ultimate meritocracy.
Frank Gore rushed for just over 1,000 yards in 2016. And yes — the starting running back job is his to lose going into 2017… unless he doesn't make the final cut. But, could that actually happen? Although unlikely, of course it could. General manager Chris Ballard has previously stated that the "locker room is watching" how he operates as the decision maker. Also, that the "competition" mantra is not just window dressing, but something to be expected in action. The players that bring the most to the team will be the players that are rewarded with roster spots.
Gore is relentless, he gets skinny through holes, drives through contact and falls forward to finish every play. He is the consummate professional. He works as hard as anyone and he has the psyche that any GM would covet.
At the same time, think about the threat that Gore poses to defenses. He does not provide the threat that he once did, and he doesn't provide the threat that others on the Colts roster potentially do.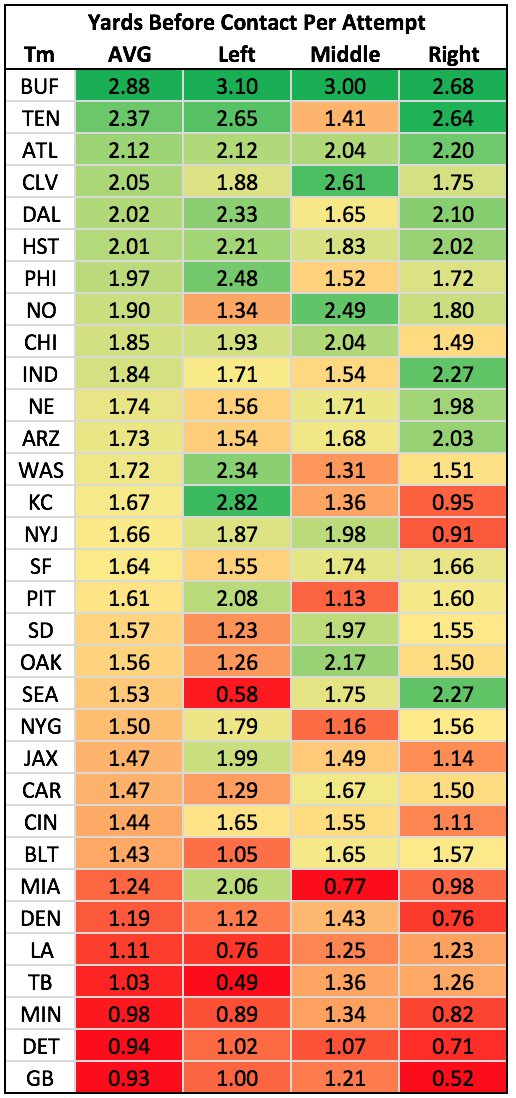 In 2016, Gore rushed for less than four yards per carry for only the second time in his career, 2015 being the first. Coupling that lackluster stat with the compiled data to the right that shows the Colts offensive line as 10th-best at giving their running back yards before initial contact, and there is possible trouble in that No. 1 spot on the Colts depth chart.This is a massive red flag
This is a massive red flag that indicates that this version of the Colts backfield left a lot of valuable yards on the field. Yes, Gore rushed for 1,025 yds in 2016. And, while Colts fans were clamoring for that because it hasn't happened since Joseph Addai, Gore's sub-four yards per carry ranks him 28th among RB's with over 100 carries. Multiple times in 2016, the then-33-year-old was a cut away from breaking a long run, or was caught from behind with open space ahead. If the status quo remains at RB1, then you should expect the same (if not worse) in 2017.
In the absence of Gore during the Colts' recent offseason program, Robert Turbin and Marlon Mack got in good work. Ballard commented on the fact that he sees Turbin as able to get more early-down handoffs:
"It'll be interesting to see if he can progress even more on first and second down and take some of the load off [Gore]. But that'll be completely up to our coaching staff and Robert and how he performs."
Offensive coordinator Rob Chudzinski was effusive in his praise for Turbin's start to the offseason:
"He's had a hell of a spring – much better this spring than he was this time of year a year ago. He's really gravitated toward a leadership position and helping guys out. He gets on guys when he needs to. Obviously, you guys know short-yardage, goal line, things like that. As the year evolved on, we saw more and more and he improved and he was there for us. I can't say enough good things about Robert."
The Colts are getting younger all over the field. The efforts that the Colts front office has made this offseason to get younger on defense are well documented. At the same time, The Indianapolis Star's Stephen Holder's projected offense's average age rests at 26 years old, and that is including the now-34-year-old Gore.
Gore is an eventual Hall-of-Famer, but he is also not immune to the inevitable law of diminishing returns. The issue is that it is debatable whether or not Gore fits the direction that this franchise seems to be going.
A man hoping to come close to the level of success that Gore has achieved is Mack, who is just getting started on his NFL journey. Mack offers an exciting prospect in the backfield for the Colts. He is a slippery back who broke tons of tackles in college and also showed the ability to get to the edge and turn it on for big gains. His key is explosion. Six of his 15 touchdowns in 2016 went for more than 43 yards. If Mack can prove himself quickly when the pads go on in July, things could get interesting.
Ballard, speaking with Colts play-by-play announcer Bob Lamey about OTA's, described Mack as "showing speed and vision."
Pagano comments that, "He's (Mack) got good hands and he's got good vision. He's got a nice jump cut. He's explosive and he can burst. He's good in traffic and he's learning the protection part of it."
Young, quick, explosive, decisive… give the ball to a running back with these attributes and keep defenders away from him for nearly two yards past the line of scrimmage and see what happens.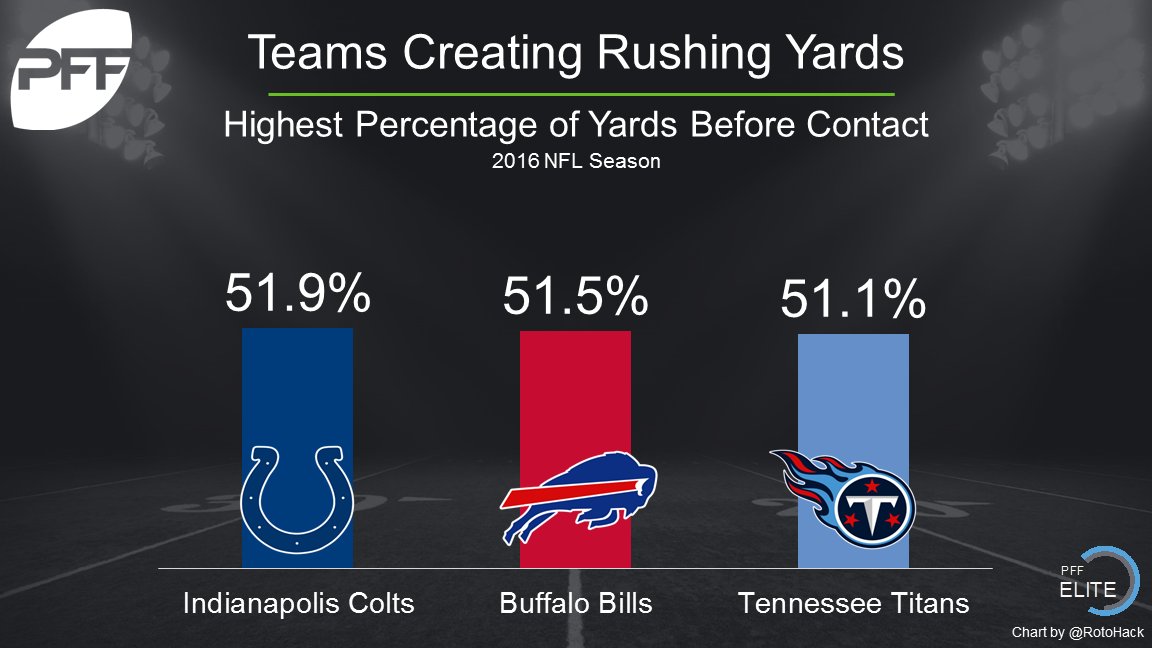 The Buffalo Bills finished 2016 rushing for 2,630 yards on 492 attempts. That's good for a league-leading 5.3 yards per carry. LeSean McCoy went for 5.4 yards per carry, with a long of 75 yards, totaling 1,267 yards for the year on 234 attempts.
The Tennessee Titans finished 2016 rushing for 2,187 yards on 476 attempts, which is good for third in the league at 4.6 yards per carry. DeMarco Murray finished 2016 at 4.4 yards per carry after carrying the ball 293 times, with a long of 75 yards for 1,287 total yds.
Those three teams in that graphic are the only teams with over 50% rushing yards before contact. The No. 1 and No. 3 teams in the league in rushing yards are in the graphic above. The Colts should be close to the top of the heap based on this precedent, yes?
The Colts finished 2016 ranked 23rd in total rushing yards at 1,620, and 20th in yards per carry at 4.0. Again, Gore finished with 3.9 yards per carry, and his longest run of the year was for 22 yards. 22.
When a company goes out of business, smart economists may say that it happened a little bit at a time and then collapsed at once. The same can be said for NFL running backs. There is a steep cliff that comes in play at some point in NFL player's career. Smart GM's get out from under these situations before they effect their teams. Before they look back and regret the number of carries that they gave a 34 or 35-year-old declining talent.
Gore was the first-string running back on a top-10 offense in the NFL in 2016. The message is not that the NFL's No. 8 career rusher will be cut from the Colts this summer, or even that he should be cut this summer.
The league's leading active rusher's value, although limited,  shows up on the field. It should also manifest as he mentors Mack and the team in general. Is that enough? Is Gore's mystique, his past, his "intangibles" enough to warrant a spot on the 53-man roster? If Gore will not be your RB1, do you cut him loose and give him a chance be "the guy" elsewhere? Only one person has to answer those questions.
Ballard uses these numbers, among many others, in his evaluations. Decisions are looming, but the pads have not even made an appearance in 2017. There is a lot to be determined once that factors in. To think that Gore is exempt from the possibility of losing his position at the company that he works for to someone who is better equipped to perform his duties is naïve and shortsighted.
Grant Irmiter covers the Indianapolis Colts for Pro Football Spot. Follow 'Indianapolis Colts on PFS' on Twitter @spot_colts and Grant @grirmiter.