Join us each week as Andre gives his thoughts on the Jaguars secondary matchups and what we can expect to see when our weekly opponent's wide receivers line up across from our Teal Angels.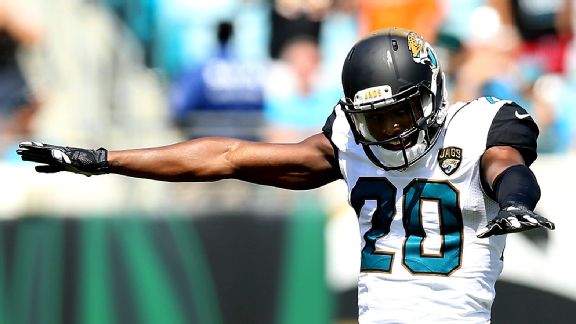 The Jacksonville Jaguars Secondary Looks to be the Primary Answer in 2017
The Jaguars are entering the 2017 season with a lot more question marks than answers. Like, can Leonard Fournette be the second coming of Fred Taylor? Or even Jones-Drew (minus the hot-headed behavior at random St. Augustine bars)? Does Cam Robinson sew up all the frustrations with the offensive line? Or, will Allen Robinson get a deep ball that he's happy with? Will Tom Coughlin pull his best "Salt Bae" impersonation and sprinkle some Giants pixie dust on Jacksonville, making them relevant in the greater NFL landscape? Will Bortles have more touchdowns than picks this season? Okay, so most of the questions circle around the quarterback position, which for all intents and purposes is the de facto headline position on any NFL team. Luckily for the Jacksonville Jaguars, they open up against the Houston Texans with one resounding answer for this presumed season of doubts: the secondary is lit.
Let's step around the obvious, for a bit, and start with the Jacksonville Jaguars free agency signing at cornerback, A.J. Bouye. The 26-year-old signed a huge contract with the Jaguars this offseason to the tune of $67.5 million with $26 million guaranteed. He wants to live up to that contract heavily, so I expect him to do everything in his power to ball out this season. What better way to start out on the right foot than to play against the team that refused to pay you? While playing with the Texans, Bouye consistently improved, showing a great knack for anticipating routes and essentially running them for the receiver. This either led to a timely pass breakup (Bouye had 16 passes defended last year) or a convenient pick. He truly is a film junky and practice warrior, which can be seen in his rise in production over the years. The Jags are buying at the right time, as Bouye adds to the overall physical presence that the secondary presents with his 6'0 frame. His anticipation skills and length factor make him perfect in downfield battles with bigger receivers or those that thrive off of timing up the jump ball. His physicality makes him an asset in the run game, as well, but the other free agent signing this offseason will carry a heavier responsibility in that department.
Listed at 6'2, 218 pounds the former Dallas standout, Barry Church, comes to Duval County continuing to pile on that physical presence the Jacksonville Jaguars secondary wants as an identity. In his best tackling season (2013), he had 107 tackles, so the guy loves to bring the pain when given the opportunity. He also brings a level of consistency to a relatively young core secondary unit. He started every game for the Dallas Cowboys from 2013-2016 and was key in setting the tone for the defensive unit to create turnovers. That was a huge downer for the Jags last season: while they were the number six best defense in terms of yards allowed last season, they were only able to snag seven interceptions, which was good for dead-last in the NFL. Church thrives off of being put near the box and making plays sideline to sideline, as well as being placed as the deep half safety in cover two schemes. This perfectly compliments the adept man-to-man coverage of Bouye and his left corner counterpart.
The other safety in this core aspect of the secondary unit could be the best playmaker. While playing for the Browns, Tashaun Gipson was a full-on ball hawking machine. In his best season with them, he was second in the league in interceptions with six. When Jacksonville signed him they expected that production to continue, but maybe due, in part, to the predictable schemes that were set forth by Gus Bradley last year, Gipson had a truly pedestrian one interception all season. A slight shakeup in philosophy will surely help this guy get back to the type of impact he once had. He's not as big as the rest of this unit, at 5'11, 212 pounds, but he makes up for that small difference in being a huge playmaking threat when he does get his hands on the ball. Most of his interceptions come from tipped passes from his complicit defenders. Gipson seems to pride himself in hustling around to the football no matter where he lines up initially. He possesses the necessary speed to be able to bait quarterbacks into making errant throws into his range of coverage, asking them to pay up once he turns on his closing speed. Having Bouye and the next guy to round out the secondary as lockdown corners will place Gipson in the right zone to make cleanup plays from all the passes defended from a lengthy secondary.
The brightest light in this promising collection of secondary assets and the DB Corner's presumptive favorite for defensive player of the year, Jalen Ramsey will undoubtedly be the man called upon to take the number one receivers of opposing teams completely out of the game. The Rookie of the Year runner-up comes off of a stellar first season in Duval, having held opposing quarterbacks to a paltry 37.8 passer rating in the last five weeks of the 2016 season. Surgery for a core muscle injury this offseason doesn't seem to slow down that momentum created by this outspoken, budding superstar. The kid oozes Deion-swag and that perfectly rounds out this quartet of base package defensive backs. The 6'1, 209-pound five tool assassin can do everything essential to being a great defensive back. It's no secret that this kid has (1) length and range to make tight windows that much more tighter for passes, especially in jump ball and back shoulder throwing situations (2) demonstrates the speed to keep up with literally any burner that a team can throw at him (3) is physical almost to a fault, loving to mix it up with receivers and rushers alike (4) has the footwork ability akin to a guy the size of Darren Sproles, which helps to stay in the pocket of any receiver looking to get shifty and (5) the ability to make a play on the ball and do something with it once he has his mitts on the rock. Just check-in on the kid's Florida State highlights if you forgot about his playmaking ability after coming off last season with just two interceptions. The deadly package he presents is heightened even more with Ramsey's unbridled, Duval-like confidence that seems to permeate the entire defensive unit.
One thing this Jaguars unit has in common is that they all play with a huge chip on their shoulder. Besides Jalen Ramsey, this unit is made up of undrafted ballers that had to work their way up through an organization and prove that they could be more than just a body on a roster. Any good DB would tell you that in order for you to succeed at the position, you have to have a me-against-the-world mentality. A Primetime DB is willing to do anything, within the rules, to get a competitive edge against the prissy receivers you're lined up against day in and day out. Despite being a top ten first round pick, Ramsey demonstrated he belongs in this vein of thinking with his notable scraps with Steve Smith Sr. and his week one mega matchup: Deandre Hopkins.
The major key to this week one matchup for the Jacksonville Jaguars is who wins the Hopkins v. Ramsey Round Three fight. The scorecard would say, without a doubt, that Hopkins got the better of Ramsey in both of their previous outings together. However, Ramsey kept Hopkins well below his averages in those games, limiting the former Clemson standout to five catches for 48 yards and eight catches for 87 yards, respectively. Given the injury to Will Fuller hurting the overall depth of the Texan's receiving corp, expect Hopkins to get even more looks this Sunday. I'm sure Ramsey will be chomping at the bit, as it seems that he's learned to fight fire with fire when it comes to Hopkins. Ramsey has to force Hopkins into a boxing match, hoping that he'll tire out in the early rounds so that he won't be able to make a crucial play at the end of the game like he's done the first two times these guys faced off. I would give the slight edge to Ramsey in the speed department, so that helps him out if there is any chance that he gets knocked off a step when he implements his initial jam technique on the equally physical Hopkins. Regardless, these two are the type of rivalry the NFL savors and should put on quite the show for a Houston-base that could use it, given the recent tragedy presented by Harvey. We'll all sit back and enjoy the fireworks that are sure to spout off with these two burgeoning heavyweights. The super-tooled, athletic fiend versus the smooth operating, physical specimen. The gloves are off.
Jacksonville Jaguars @ Houston Texans, NRG Stadium, September 10, 1:00 ET, on CBS
Check back each week as Andre previews the Jacksonville Jaguars secondary in Dre's DB Corner. You can follow him on Twitter @danixair.