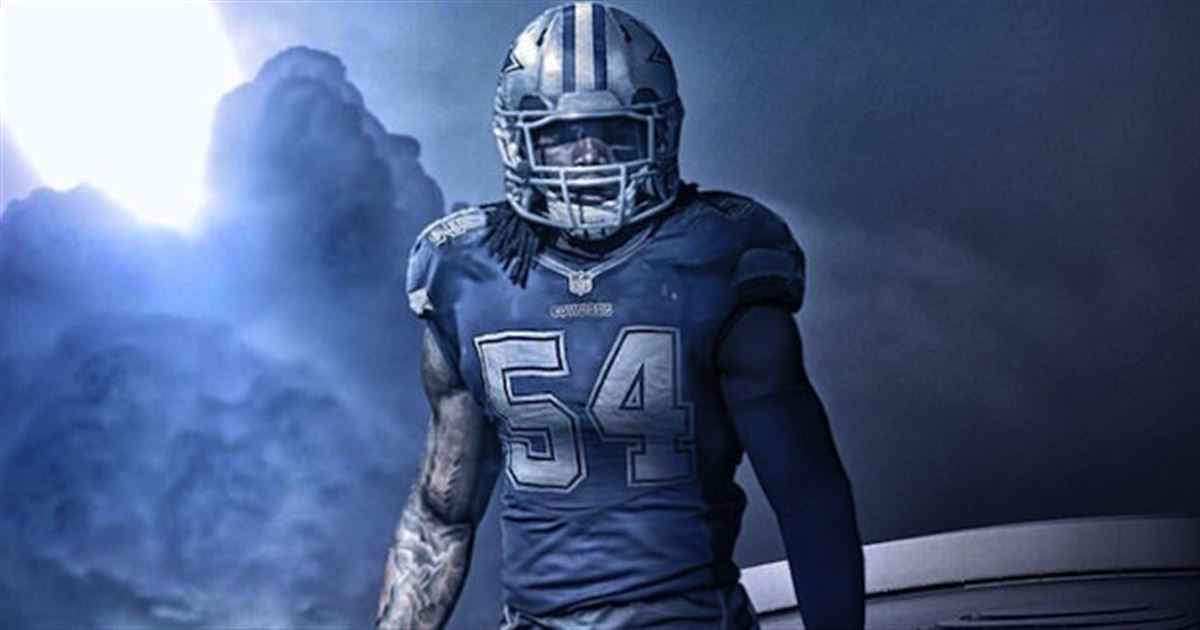 (cred: Evan W. /@ew.fx)
Jaylon Smith is coming.
You see it, gathering on the horizon like a storm in the desert. You feel it, the wind shift like a rumor of war daddy, the sudden drop in barometric pressure like the shedding of doubt, the earth itself seeming to inhale sharply and hold it's breath, waiting. You hear it, a roll of thunder, a cacophony of experts and expectations, of pain and desire, the crumble of obstacles and naysayers crashing to the ground. And then, suddenly, there is a flash of lighting stretching from the heavens to to touch the earth below, and for an instant, the dark night of the future is as fully illuminated and clear and knowable as the bright light of the present day:
Jaylon Smith said he's been able to make plays like this recently, media/fans just haven't been able to see it until today pic.twitter.com/nPzvYI3LA6

— Jon Machota (@jonmachota) July 30, 2017
Seven seconds.
Seven seconds is all it was. Seven seconds that made every Cowboys fan who saw it stop their scrolling and play it again. And again. And again. Seven seconds of read and react, of instinct and burst and attack. Seven seconds that sent a shudder of almost impossible anticipation up and down the spine of Cowboys nation. Seven seconds that seemed to utterly redefine what was possible for this young football team. There were other videos of Smith (made by Jon Machota) from that practice that were also inspiring. (You can find a veritable catalog of them here.) But by the time the others came out, that first seven seconds had started the avalanche on its way. They were seven seconds that seemed to say it had all been worth it.
What the Scouts Said
Bryan Broaddus, the scouting expert from Dallascowboys.com, once said that when he heard the Cowboys drafted Jaylon Smith in the second round it was like someone kicked him in the stomach. Much of the Cowboys faithful knew exactly whereof he spoke. Earlier that year in the Fiesta Bowl, Smith, a potential consensus top five pick, had suffered a horrendous injury, suffering a torn ACL, LCL and severe nerve damage.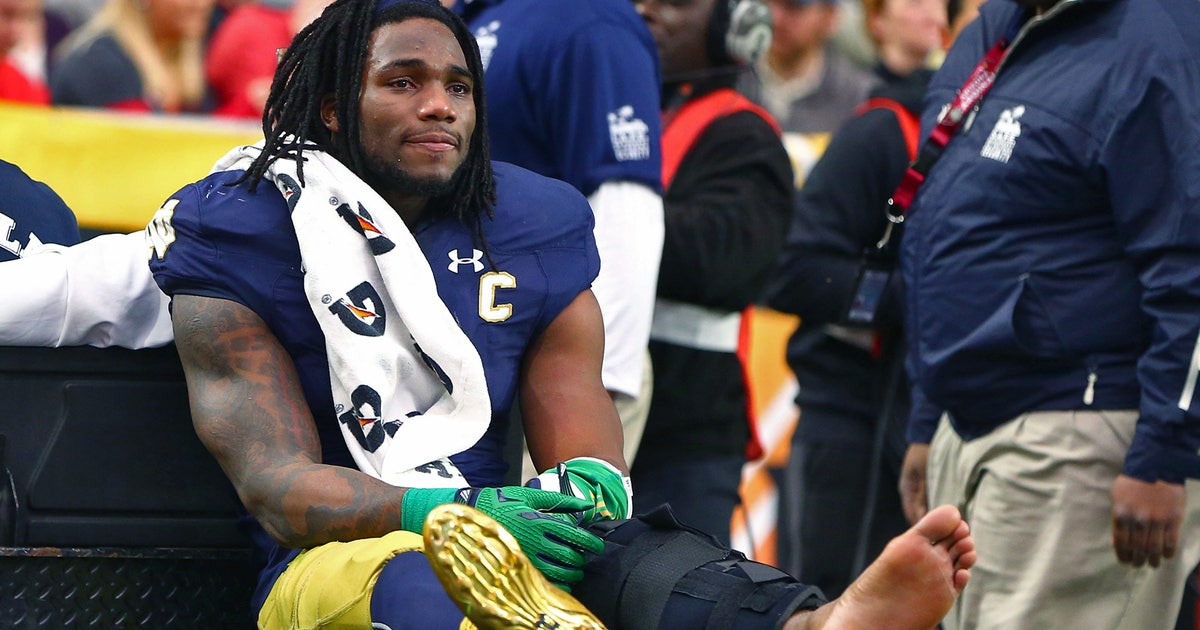 (Mark J. Rebilas/USA Today Sports)
Before that catastrophic injury, well, the majority of scouts said much the same thing: "elite pass coverage linebacker, man-coverage ability vs TEs, WRs and RBs, tremendous instincts, superb tackler, very good pass rusher, rare closing speed, all over the field, big problem for offenses, amazing athlete, naturally strong, very fast –" WHEW!  Oh and "He's super-cool off the field."
After the catastrophic injury all those self-same scouting reports were pretty much, "and then he got hurt."
(There's no special reason that I picked that particular scouting report. They all read more or less the same: the kid is elite.
It was nothing personal against Smith, but he had become the poster boy for why elite college players should not play in "meaningless" bowl games — for fear of risking a career-ending injury. The concern was not just that Smith might not play at all his rookie season, but that he might never play another down of football again.
The Cowboys Play Big in Risk/Reward
The Cowboys, as the Dallas faithful know, have made a routine of taking big chances in the second round, gambling on first-round talent that had fallen because of injury questions or off the field issues. Randy Gregory, DeMarcus Lawrence, Sean Lee, Bruce Carter had all been drafted under this umbrella with varying degrees of success. Lee who dropped for injury reasons, did indeed spend much of his early years injured but has since blossomed into an All-Pro. On the other hand, Gregory had dropped because of drug problems and has barely even been able to make it on to the field because of those self-same problem.
None of these gambles was as large a risk as Jaylon Smith. "He'll might never play," the "They Said" Narrative went, "If he does play it won't be this season. Even if he plays next season, he'll never again be the same Jaylon Smith." Or so went the Conventional Wisdom.
The Cowboys Have a Card Up Their Sleeve
But the Cowboys had an ace-in-the-hole. Their own team physician, Dr. Daniel Cooper had performed the surgery to repair Smith's battered knee. According to Smith himself, Cooper came recommended as "the best available". With his intimate knowledge of the injury and his own prodigious skill set, Cooper felt comfortable providing a realistic timetable for Smith's full recovery.
So, there was some cause for hope. But it is doubtful that anyone outside of Cowboys nation had any real hope for Smith's full recovery. Luckily, aside from Dr. Cooper, the one person who did was Jaylon Smith.
Clear Eyed View
Jaylon Smith's positive outlook on not just his situation but his life is well documented. His faith has never waivered. His mindset has never devolved into self-pity. One feels like at some point, in his private life, there must have been a low moment. But if so, it never made it to his twitter account, where that self same attitude has a name. Smith calls it his #ClearEyeView and when encountered either in person or through cyberspace, no one is ever willing to be the first to say Smith nay. Dr. Cooper himself, along with the Cowboys brass, attributes much of Smith's recovery to this very attitude, this will to not just succeed but excel.
Temper Our Expectations
For the fans though, and the Dallas media, it has been the wise choice to temper our expectations. After all, what Jaylon Smith is attempting to do is nearly unprecedented. By all rights, it should already be over. Had Jaylon Smith been anybody but Jaylon Smith, the chances are astronomically good that he would be just another sad story, like so many, of an elite athlete for whom fate had chosen another path. So the Cowboys fan base has been reminded again and again and again: "Calm down" echoes the chorus, "be patient." So prevalent is this mode of thinking that a standard question of the past few months has been whether or not 75% of Jaylon Smith is still better than 100% of Anthony Hitchens. (This writer doubts it but that's a topic for another piece.)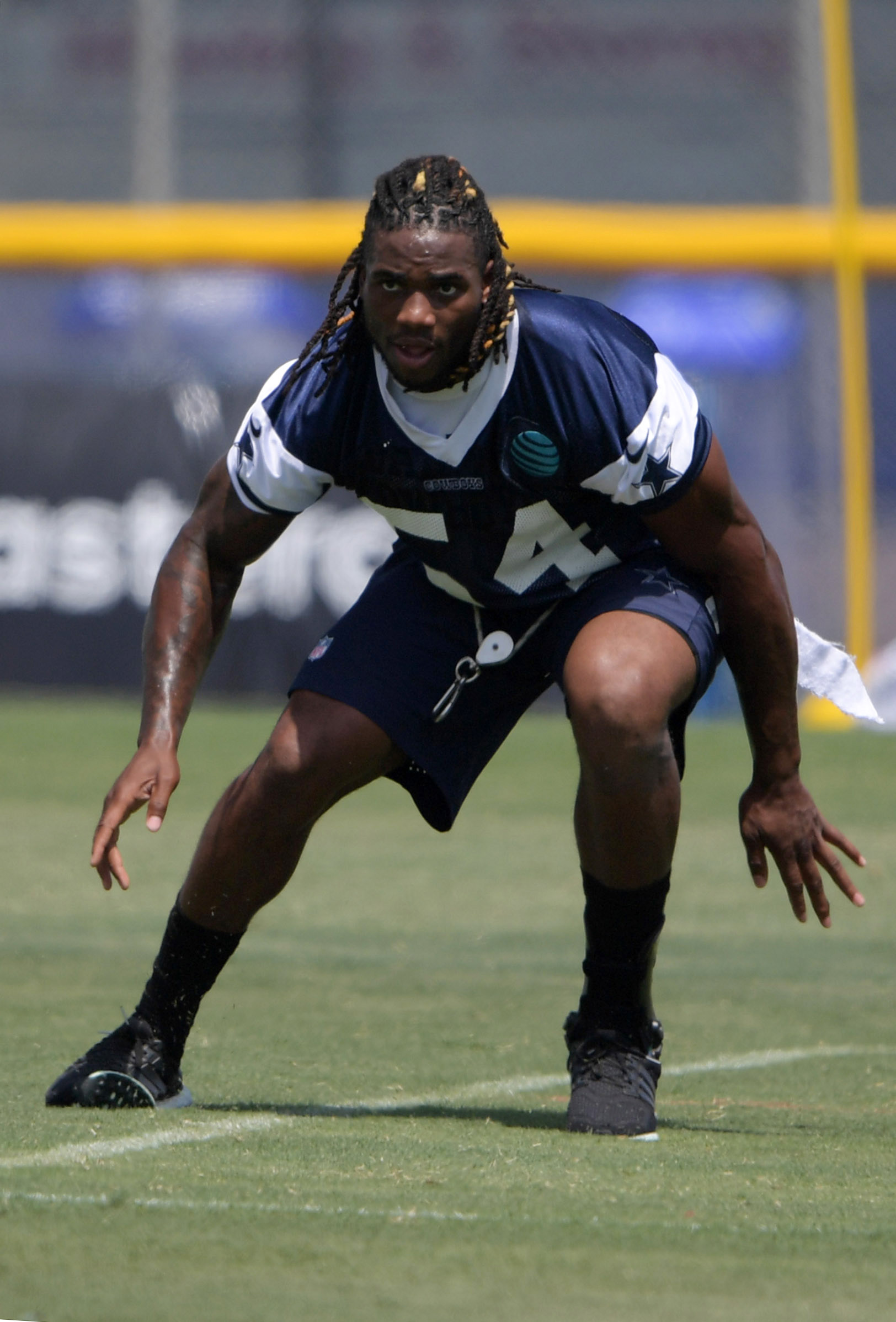 (Kirby Lee/USA Today Sports)
For the most part, one might say that Cowboys fan base has shown a remarkable amount of restraint; something, generally, that they are not known for. Much of the attention has been focused elsewhere: Ezekiel Elliott and his off the field issues, Damien Wilson, Nolan Carroll, and David Irving and their suspension, Jourdan Lewis' trial. On the positive side there's been the passel of rookie defensive backs to focus on, the other exciting rookie, wide receiver Ryan Switzer, and of course, Dak Prescott, the football messiah. Oh yes, Cowboys fans have had plenty of other things to think about.
Rumbling in the Mountains
But almost from the outset of training camp, there has been noise about Jaylon Smith. A quiet murmur at first, that came with videos and pictures Smith had posted during OTAs of himself doing various exercises and drills that showed his knee was moving along nicely.
The Real is back~ #ClearEyeView pic.twitter.com/pbRXeoJFTO

— Jaylon Smith (@thejaylonsmith) February 15, 2017
"That's good," thought the Cowboys faithful, "Hell, that's great! But we're not getting our hopes up." And we were reminded that this was, in fact, the proper mindset. Obviously, it looked more like he would definitely play at all but people were still saying there was a hitch in his step, he looked like a guy that hadn't played football in a while, even that he looked like what, in fact, he actually still was: an injured player.
July came. The Cowboys training camp starts early because they are slated to play in the Hall of Fame game. Right from the beginning, people were talking, people who should know better, media people, Cowboys website people, respected Cowboys bloggers. All of them agreeing, "Jaylon Smith is looking good."Almost to a man, that initial assessment was quickly followed by, "Remember, he's playing against air, without pads, against his own teammates, he's being deliberately coddled so as not to have a set back, etc."
(James D. Smith/Dallas Cowboys)
But you could hear it in the voices of these seasoned bloggers, pundits, journalists; that crack in their voice as their resolve was breaking down. They're excited. They're ready to believe right now but they know they shouldn't. They want to call it: "Jaylon Smith. Starter. Jaylon Smith. Pro Bowl. Jaylon Smith. All–"
Stop it. They tell themselves.
It didn't help that after we'd all been reminded ad nauseam that Jaylon Smith would probably not be practicing two days in a row and not to take that down day as a set back, that almost immediately that was exactly what he did. He practiced two days in a row. There was no pain.
Then nationally renowned football writer, Peter King, made an uncharacteristic blunder. He tweeted that Jaylon Smith was not wearing a brace.
OXNARD, Cal.-LB Jaylon Smith practicing (without a leg brace) in pads for first time in almost 19 months this afternoon at Cowboys camp.

— Peter King (@SI_PeterKing) July 26, 2017
It wasn't true. Knowing that Smith had a knee injury, King was no doubt looking for a knee brace. When in fact, because of the nerve damage, Smith has a condition called drop foot, meaning he couldn't lift his foot or push off with it and therefore was wearing a so-called "Richie" brace. It was an easy mistake, quickly corrected by media (and social media) who knew the score but still, it didn't help. The fact that it was Peter King who made the mistake was more telling than anything else. You can't be a much more respected source for sports news, have more journalistic skins on the wall, have much more access than Peter King. Why did he make such a rookie mistake?
Because Peter King was fired up. He was fired up by the by the  possibility that he could be watching something special. He got caught slipping because of the mere chance that he might have been bearing witness to an amazing story. Who could blame him? (Now, I'm not saying you should be fired up. I'm just offering my theory as to why I think King made that mistake.)
The Story That Wants to Be Told
And then, even more recently adding fuel to the fire, Sean Lee speaking from personal experience: "I think he's the complete package. Physically, he's an incredible athlete. Mentally, I mean, the instincts he has, how he works, the work ethic, it's a matter of time before he's dominating…"
If you're trying to be reasonable, if you're trying to be calm, realistic, patient, if you're trying to temper your goddamn expectations that is NOT the kind of thing you need to hear.
Just this last week, the Cowboys played their first preseason game. Jaylon Smith didn't play a down. Nobody made a peep. Nobody complained. Nobody questioned. Everybody understood. Take it slow. Step by step. Don't rush it. We don't want a set back. We've seen the videos. We've heard the reports. We stay calm. We don't get excited. We temper our expectations. We try not to think about the seven second flash of lightning that lit up our nights with championship dreams.
All of us ignore the wind picking up. We pretend we didn't feel the sudden drop in barometric pressure. We don't even glance over to the horizon to notice the flash of lightning there. We are oblivious to the rumble of thunder in the desert mountains.
But the truth we feel it. We hear it. We see it with our clear eyed view. The storm is coming.
And it's name is Jaylon Smith.
You can reach Bobby Bermea @IntheClutch75