TOP OF THE ROSTER
WINNER – Kerwynn Williams, Kick Returner
Kerwynn Williams is this week's Top of the Roster Winner. He has not broken anything major yet on kick returns or runs, but he has had solid plays on both. On Saturday against Cleveland he took the opening kickoff roughly 40 yards, putting a hard juke move on a defender. He also had a 27-yard run to the outside later in the game. He wins this week because not only has he shown enough to make the active roster, but I believe he has shown enough to be given the opportunity to be the team's starting kick returner. Some of the other players who have returned kicks during the preseason such as Jabin Sambrano and David Reed most likely will not even be on the team when the regular season begins.
LOSER – Erik Walden, Outside Linebacker
I hate to pick on Erik Walden, but after being Week 1's Loser, then having a solid Game 2 against the Giants, he finds himself back in the Loser's spot this week. I would not say he performed poorly, although he did whiff very hard on a Trent Richardson catch-and-run. However, his issue is that he just has not performed well enough to separate himself from rookies Bjoern Werner and Caesar Rayford.
No one would have considered Rayford to be in this position coming into the preseason. However, after a stellar preseason, I do not see why the Colts would not only bring him onto the 53-man roster, but use him in certain passing downs on defense, as well. As far as Werner goes, he has performed well enough to separate himself from Walden in my eyes. Their production has been roughly the same, but Werner seems to be executing at a higher level. It would not surprise me if Werner is starting over Walden by the first few games of the season. Werner and Rayford keep performing well enough to take snaps away from Walden when the regular season comes around. There is no doubting the difference in ceilings when it comes to Walden vs. Werner/Rayford. It is becoming more and more evident every week.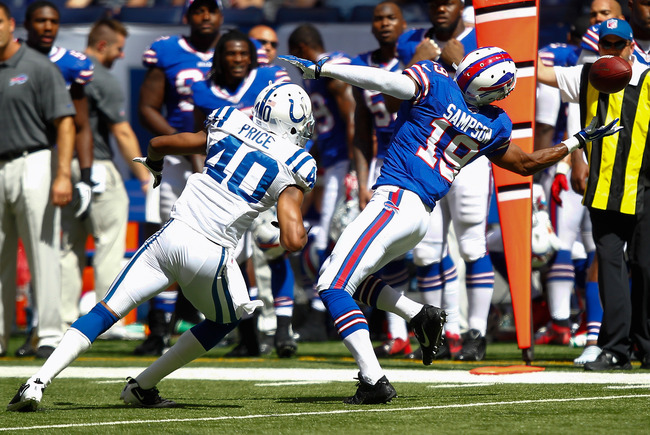 BOTTOM OF THE ROSTER
WINNER – Mario Harvey, Inside Linebacker
After sitting out a portion of time recently with an injury, Mario Harvey returned to the field in a big way Saturday. He was the co-leading tackler in the game with 4, including a sack on a bad snap to Cleveland quarterback Jason Campbell.
Harvey jumped off of the screen to me on several plays. He was all over the field and was usually around the ball when a play ended. Harvey also knows this defense, as he played in Indianapolis in 2012 also. His experience mixed with his performance will likely keep him around another year. After all, there are not any better options than him when it comes to the depth he provides on defense and special teams.
LOSER – Sheldon Price, Cornerback
Sheldon Price is another player who finds himself on the Loser's spot this week mainly due to the performance of others. He has not been picked on consistently anymore like he was in the first game, but he has just been outperformed by other players he is competing with. Marshay Green appears to have firmly placed himself in the discussion for a final roster spot at corner. Green would be the fifth cornerback. Beyond that, Daxton Swanson has the ability to play cornerback or safety, which has made his value arguably higher than Price's.
Price has just not stood out enough to warrant a roster spot over Green or Swanson. Not to mention, the team waived the player that Price was most compared to, Allen Chapman. Unless Price makes it to Thursday's preseason finale in Cincinnati and has a huge game, I think he finds himself on the outside looking in either by way of practice squad or the waiver wire.