It seems the proverbial storybook writers have dipped their quills yet again just as the sun is setting on Peyton Manning's 18-year career. As the fourth matchup between the greatest regular season quarterback of all time and his former team looms, just 284 yards and one win stand between Peyton Manning and Brett Favre's NFL records for passing yards and victories. Rest assured, Manning's teammates will be motivated to help their quarterback etch his name in the history books once again while facing the team that dashed their Super Bowl hopes less than a year ago.
Bold Predictions: Denver Broncos vs. Indianapolis Colts
The Denver Broncos Defense Will Sack Luck 5 Times, Hold Colts to Less Than 250 Yards
Photo Credit: Ed Zurga – Associated Press
Colts quarterback Andrew Luck has been sacked 14 times in just six starts this season. The Denver Broncos lead the league with 29 sacks by a staggering 12 different players. Luck has been dealing with an ankle injury this week. Good luck Andrew.
The knock on Denver's top ranked defense coming out of their bye week was lack of competition, especially when it comes to the quarterback position. Joe Flacco, Alex Smith, Matthew Stafford, Teddy Bridgewater, and Derek Carr are hardly names that strike fear into the hearts of opposing defenses this year. Aaron Rodgers on the other hand? He fits the bill of an elite quarterback.
In Week 8, the Denver Broncos defense systematically dismantled a Green Bay offense that many experts touted as best in the NFC. Rodgers was sacked three times and pressured on what seemed to be every snap. He threw for a measly 77 yards.
Packers' coach Mike McCarthy said, "I haven't had my ass kicked like that in a long time," in his press conference following the Broncos 29-10 victory on Sunday Night Football.
With an offensive line that has struggled mightily and a banged up star in T.Y. Hilton—questionable for Sunday's contest in Indianapolis—the Colts have their work cut out for them. Don't expect Indianapolis to break 250 yards, and look for Luck to spend a vast portion of his evening getting familiar with the feel of Lucas Oil Stadium's artificial surface.
C.J. Anderson Runs for His Second Straight 100-Yard Game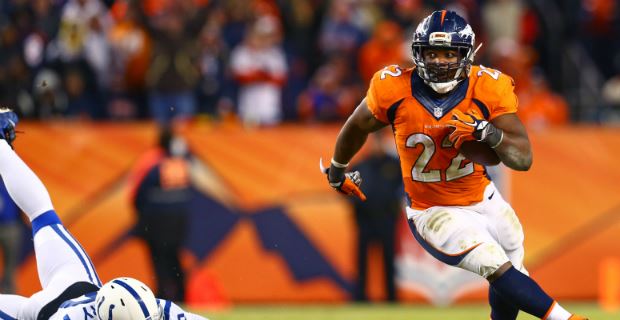 Photo Credit: Mark J. Rebilas – USA TODAY Sports
The Denver Broncos had their best rushing performance of the season Sunday night vs. Green Bay. C.J. Anderson put together his first 100-yard game of 2015. It's no coincidence that his first solid performance of the year came on the heels of his first week of rest since sustaining an ankle injury in the preseason and a nagging toe injury in Week 1.
Anderson ran for 150+ yards in back to back games late last season. It looked like that C.J. Anderson was back on the field Sunday night in Denver. Running for 101 yards on 14 carries—a 7.2-yard per carry clip—Anderson had the most efficient game of his young career.
Offensive line play has been inconsistent at best for the Broncos this year. Ryan Clady went down in OTAs with a torn ACL. Ty Sambrailo missed multiple games with a shoulder injury before being put on season-ending injury reserve. Pro Bowl guards Evan Mathis and Louis Vasquez have been limited virtually all season with nagging injuries. For any other team, this would be a recipe for disaster. Thanks to a defense reminiscent of the 2000 Ravens and 2013 Seahawks, a group of skill players that makes average NFL talent look like the CFL, and a kicker that can blast 70-yard field goals in practice, the 2015 Denver Broncos' struggles on the offensive line have been little more than a nuisance.
The Oct. 18 overtime victory in Cleveland and Sunday's victory vs. Green Bay marked the first time Denver's makeshift offensive line graded positively for run blocking in back-to-back games in 2015. With an offensive coaching staff that's committed to running the football, an offensive line that is finally finding some form of cohesion, and a running back in C.J. Anderson that may be healthy for the first time this season, there's no reason to think the Broncos' running game won't explode against an Indianapolis defense that ranks 28th in the league.
Peyton Manning Will Emerge Victorious and Break Both of Favre's Records
This one speaks for itself. Manning doesn't need any extra motivation to go back to "The House That Peyton Built" and prove to the Colts they cast him aside four years prematurely; this week he has it. 325 yards, two touchdowns and a victory vs. The Colts' 30th ranked pass defense should be no problem for one of the greatest ever to play the game.