Film Review: The Broncos TDs Hosting the Raiders
Sep 27 2013 12:00 AM | Views: 1441 | Lucas Polglaze in
AFC West
The Denver Broncos are 3-0 and arguably the best team in the NFL. Peyton Manning by himself has put up more TDs than 29 other NFL teams. They defeated the Oakland Raiders handily, 37-21. As I've promised, I will review the film of every Broncos TD this season to take you behind the scenes of this record offense.
Let's get to it! First, an explanation of my film schematics. The red arrows indicate routes or movement, the blue fuzzy line is coverage (as best I see it). The scorer's name is underlined in yellow. Personnel are on the side in white. Once the play begins, I'll circle things in yellow to bring your attention to them and lines of sight will be in pink. The explanation of routes can be found here: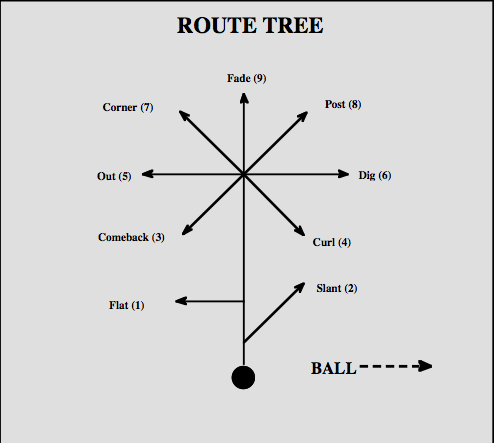 All this terminology and diagramming will be fairly clear when you see a play broken down. I list the TD# in game (with season-long numbers in parentheses).
TD 1 (13): 2 yard Decker pass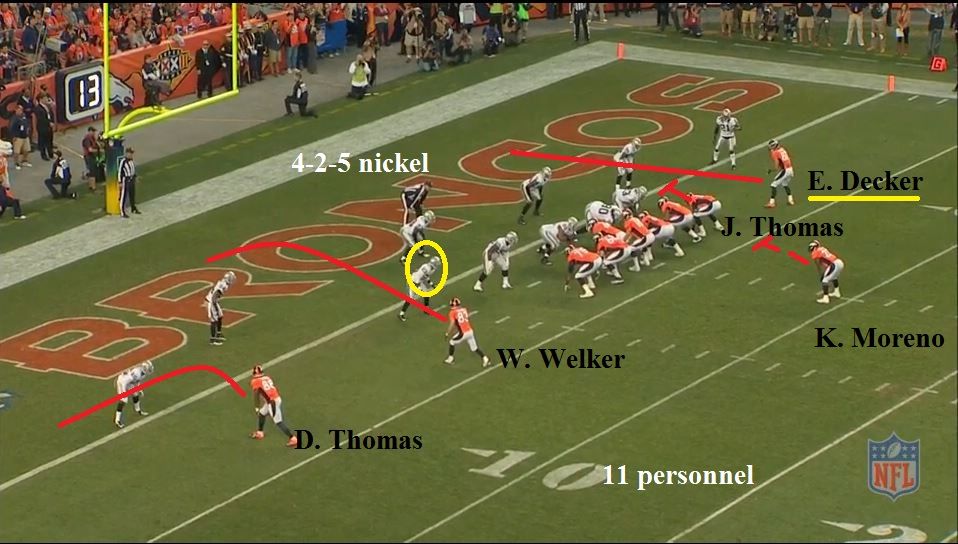 Second and goal for the Broncos at the Raiders' 2. The defense is showing a 4-2-5 nickel defense. Broncos in standard offense. In a rare play here, Manning is under center.
One note – Decker's man is threatening to blitz, circled in yellow. He'll back down and drop into coverage though.
Every Raider has their eyes on the playfake. The Broncos even pull LG Zane Beadles to really sell the run call. Decker looks like he's about to make a block.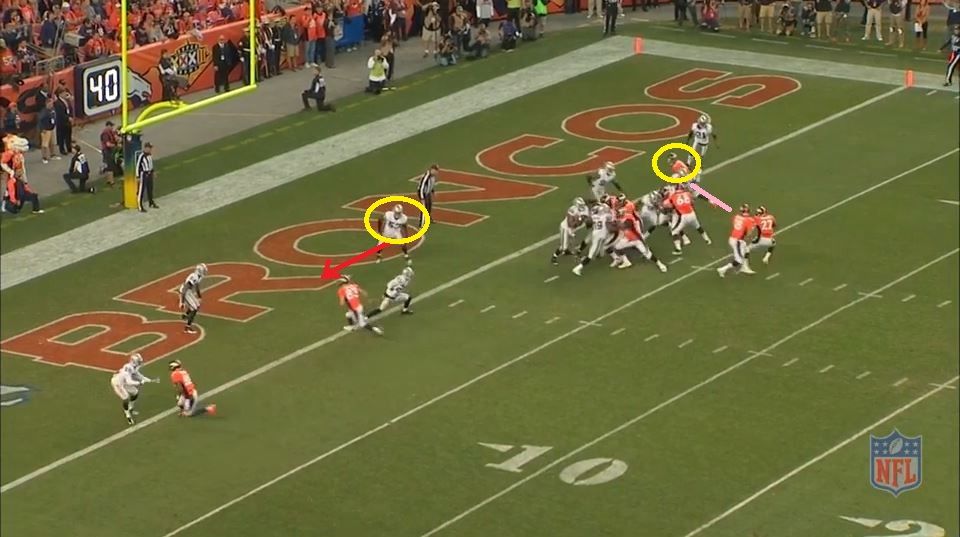 Peyton pulls the ball back. Decker's about to get wide open, and Manning already has his eye on him. The MLB (Nick Roach) is being drawn to the left of the field, leaving the middle open for Decker.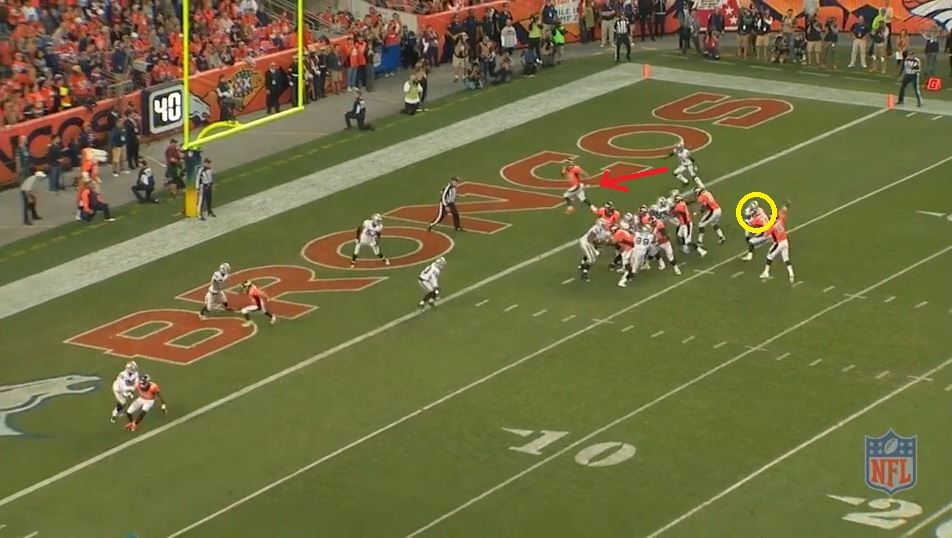 Manning throws. Decker has nobody nearby. The outside man on his side is just starting to move and the farside LB is coming back too late. Also note Moreno with a great block on a blitz pickup for Manning.
Touchdown, Denver!
Recap: The Raiders defense was out of place for the playfake. Often, when Manning goes under center, it's a run. But here he pulls it back and finds Decker wide open for the TD. Great play by Manning and Decker.
TD 2 (14): 12 yard Welker pass
Broncos at the Raiders 12. 11 personnel for the Broncos with Ronnie Hillman the RB. Manning goes empty backfield and splits everybody out against the Raiders nickel.
Pretty textbook Cover 2 defense by the Raiders. But the Broncos have just what it takes to beat it.
Welker is going to go left of his corner and cut in front of the safety. Manning's looking his way already.
Welker cuts around his man.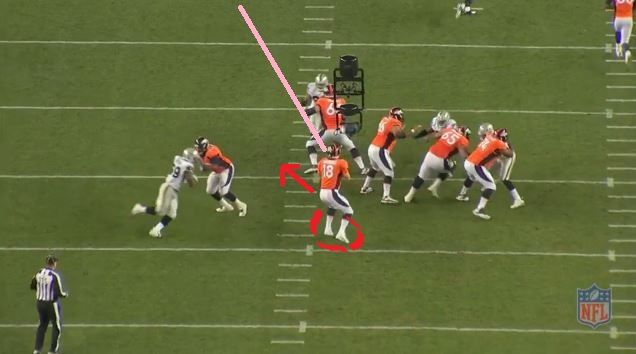 As you can see, at this same moment, Manning has room to step up. And he does.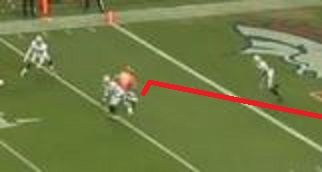 Enlarged shot here. Little bit fuzzy but it would have been smaller in the full screen. Welker fakes to the left and cuts back hard right. I'm sure this is one of Welker's famous option routes.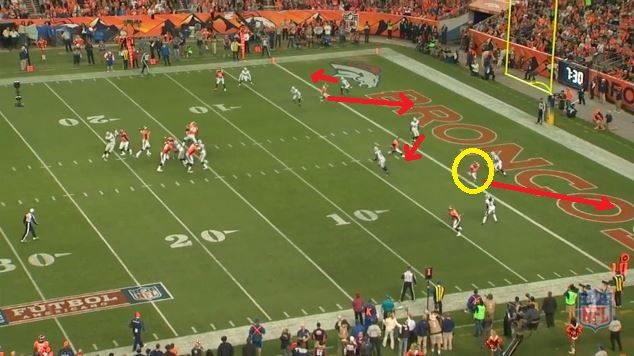 Few things to note here. Welker's cut means his safety is still going left when he cuts back. The deep LB, Roach, is moving in on Julius Thomas to cut him off deep. This means the deep middle end zone is wide open for Welker. Manning releases the ball.
Other note: Decker (yellow circle) is going to continue his corner route and go right past that safety. He'll be wide open.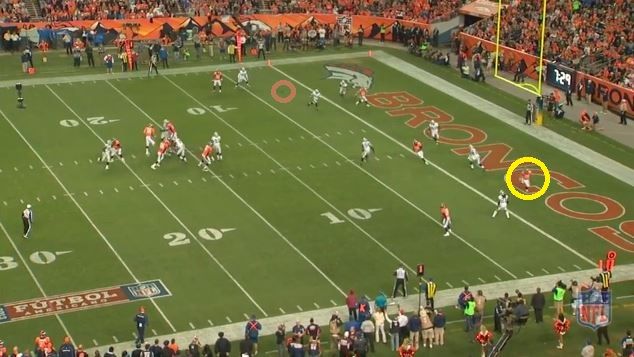 As the ball arrives, Welker is wide open. As is Decker, yellow circle, breaking toward the corner of the end zone. Nobody there on Decker but it's six points for the Broncos anyway.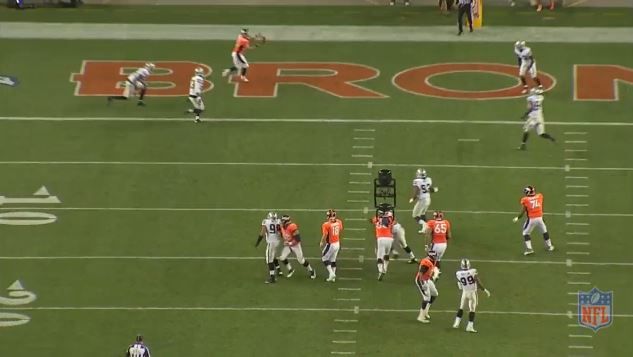 Touchdown!
Recap: Welker does a great job on an option route here to defeat the Cover 2 zone. Manning puts it right on the money to him. Decker also does a good job to get open. All-around, well-executed by the Broncos.
TD 3 (15): 13 yard pass to Julius Thomas
Third and 4 for the Broncos at the Raiders 13. The Raiders in 4-2-5 nickel. Broncos again go 11 personnel, empty backfield. Cover 1 defense from the Raiders.
The Raiders are going to bring a blitz here. Charles Woodson is going to blitz off the left side where he was lined up on Julius Thomas. Both JT and Manning see this but don't tip their hand. Manning audibles "Carolina."
The blitz: an explanation.
Charles Woodson is lined up tight on Julius Thomas, but his eyes are in the backfield. LB Kevin Burnett is lined up back at the 7. His eyes are on Julius Thomas.
There isn't really much of an explanation for a LB aligned that far off the line over a S. Why not reverse the roles? (Unless you're trying to confuse the QB). Woodson is going to blitz and Burnett is going to pick up Julius.
Right after the snap. Manning's already looking left to Julius, who is his hot read.

Again, a zoomed in view on the JT situation. Woodson is long gone on the blitz. JT is running his flat route left.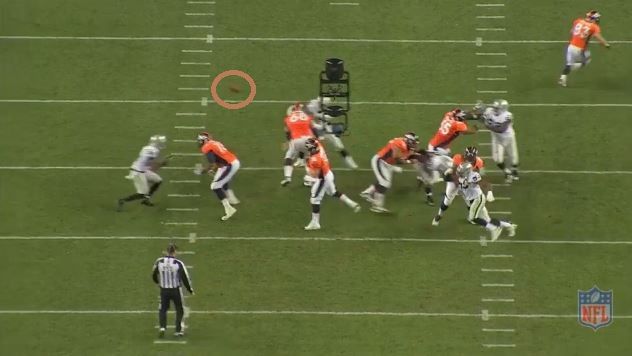 Manning lets the ball go. You can see the pocket is there. He could have stepped up left effectively.
Oh, and that blitz by Woodson? Hasn't even made contact with Clark when Manning lets it go.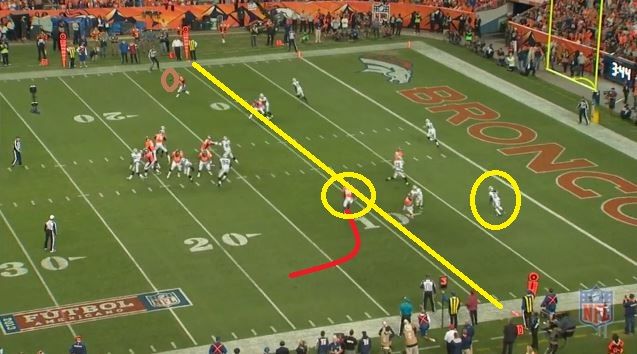 Julius makes the catch. Wide open space for him as Burnett charges in to try to make the play.
Note DT wide open on the bottom. The route concept he's running is one that destroyed the Eagles when the Chiefs played them this week, as PFF broke down here:
https://www.profootb...ook-tnf-week-3/
The Broncos may have been running this play in conception to put into use against the Eagles. Interesting to think how they may be planning for next week in advance.
DT's man is waaaay off him and is disrupted in traffic. Had Manning thrown this ball to DT (he probably would have had enough time), DT is right at the first down marker and, with a one-on-one matchup on the safety, might have scored as well.
This is all totally null and void, of course, because JT catches it with room to run. Kevin Burnett is the only Raider who has a chance…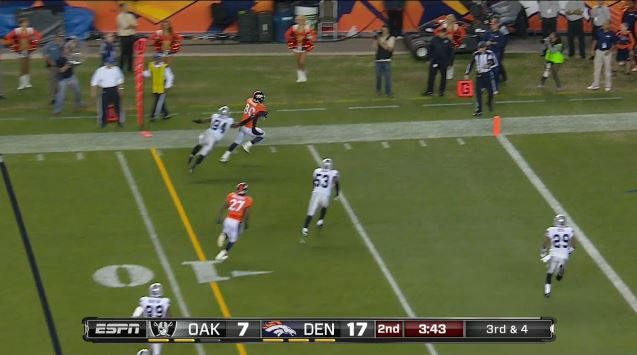 …but takes an awful angle…
…and Julius scores.
Recap: Manning is the best. He recognizes the blitz, checks out and puts it on the money to JT. Also note DT's route, which we could be seeing more of soon.
TD 4 (16): Hillman 1 yard run
Effectively 22 personnel for the Broncos as they bring in Green and Julius Thomas on the line of scrimmage and DT/multi-purpose weapon Mitch Unrein as a FB. Demaryius Thomas is the wideout and Ronnie "Rock Paper Scissors" Hillman the RB.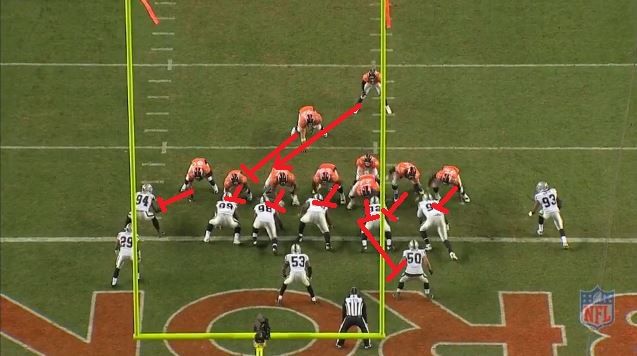 Here's the play design. Pretty straightforward, just block the guy in front of you.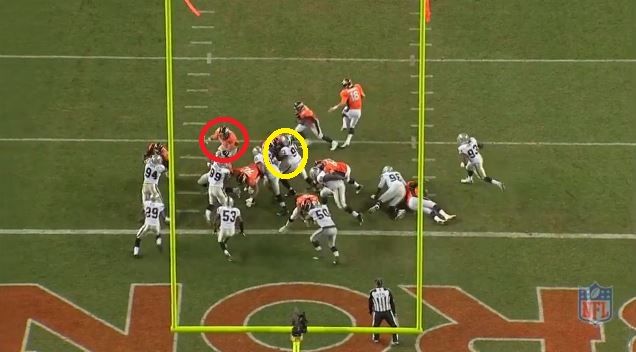 Hillman takes the handoff. Lead blocker Unrein is circled in red.
Note Raiders DT Pat Sims getting good depth on RG Vasquez after fighting off a cut block.
Unrein squares to block the hole. His target will end up being safety Brandian Ross. Unrein is a 6'4" 306 DT whose job description basically consists of "Eat opposing QBs." He's expanding his gastronomical horizons a little here to "Eat opposing S."
Ross's thoughts have been transposed on the image.
Hillman is going to cut back a little to follow Unrein.
Hillman plants his right foot and comes back.
Hillman lowers his head and hits the hole.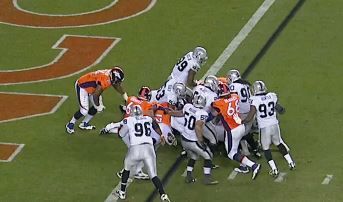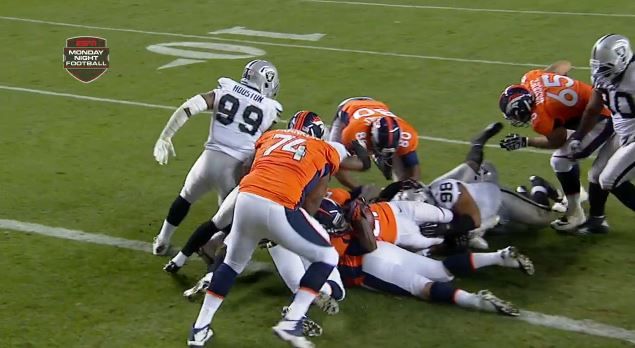 And he gets in!
Recap: Good effort by Hillman here and a great lead block from Unrein net the Broncos another six points.
As always, check back each and every week for my film reviews. Which was your favorite Broncos TD? Discuss it in the comments!
Lucas Polglaze is a Broncos Journalist for Pro Football Spot. Find him on
Google +
,
Twitter
, and
Facebook
.
Article: Film Review: The Broncos TDs Hosting the Raiders

Rules ·