Film Review: The Broncos TDs Against the Ravens
Sep 08 2013 12:00 AM | Views: 1495 | Lucas Polglaze in
AFC West
This season, I can promise you an extraordinary series: I will break down the film of the play on
each
of the Denver Broncos' touchdowns that they score. And considering that just Peyton Manning himself is on pace to throw for a mind-blowing 112 TDs, this will be no small feat. Join us as we go throughout the season and break down the game film of the Broncos!
On Thursday night's opening game against the Baltimore Ravens, Peyton Manning threw no less than an NFL record-tying seven touchdowns. He torched the Baltimore defense en route to a 49-27 victory. He distributed his passes well, throwing two TDs to Demaryius Thomas, Julius Thomas and Wes Welker and one to Andre Caldwell.
Let's get to it! First, an explanation of my film schematics. The red arrows indicate routes or movement, the blue fuzzy line is coverage (as best I see it). The scorer's name is underlined in yellow. Personnel are on the side in white. Once the play begins, I'll circle things in yellow to bring your attention to them and lines of sight will be in pink. The explanation of routes can be found here: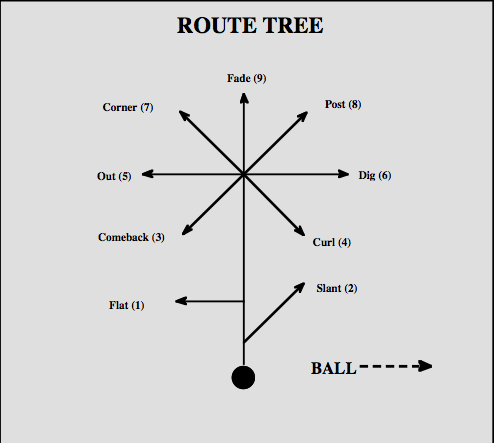 All this terminology and diagramming will be fairly clear when you see a play broken down.
TD 1: 24 yards to Julius Thomas,
http://www.nfl.com/v...4-yard-TD-catch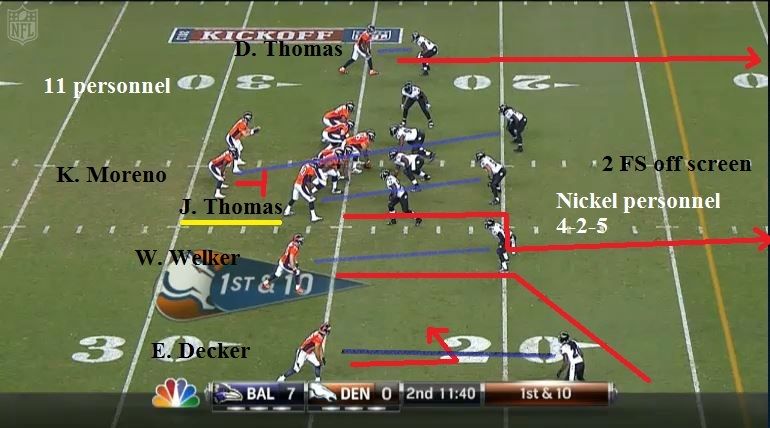 First and 10 for the Broncos at the Baltimore 24. Manning gets the offense to the line. The defense is showing a 4-2-5 with Terrell Suggs and Elvis Dumervil in a two-point stance on the line.
Demaryius Thomas has tight coverage up top. Daryl Smith is covering Julius Thomas. It looks like zone and man coverage in a Cover 2 situation.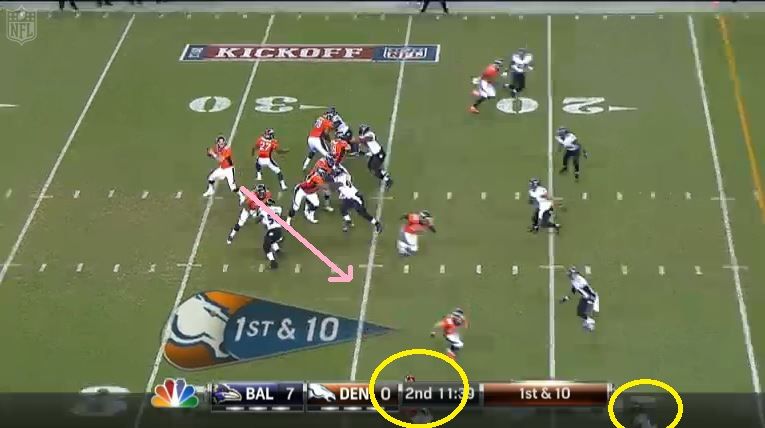 Playaction from Peyton to Moreno. Ravens rush 4. Decker gets off the line and turns back to Manning. He and his assigned CB are circled in yellow. Welker looks like he's headed for the outside DB. The Broncos appear to be running a bubble screen to Decker here. Welker's man is charging toward what appears to be a developing screen. The deep FS on this side is also moving in toward the screen.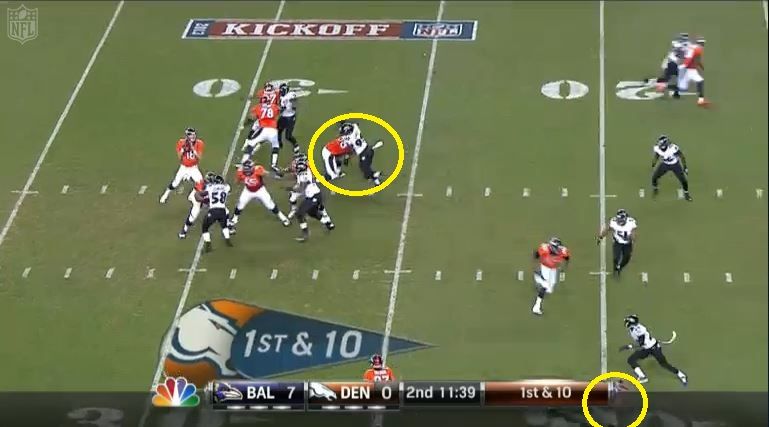 Welker breaks into a nice corner route. He's headed out of the play, just barely visible in the yellow circle on the bottom of the screen. Manning pumpfakes to Decker who is now obviously a decoy as part of a well-drawn-up play. Julius Thomas looks like he's just running an out route. He's about to break it upfield. Daryl Smith has good coverage here.
Note on the pass rush that Chris Canty is just breaking free of Zane Beadles. Circled in yellow.
Manning turns his eyes downfield to Julius Thomas. Both Josh Bynes and Daryl Smith have their eyes firmly in the backfield watching Manning, too late to react to Thomas, who is breaking back upfield. Canty is poised to hit Manning hard.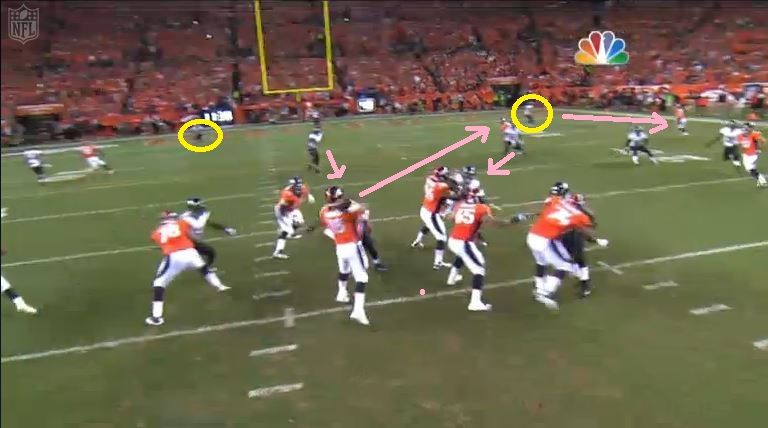 Reverse view now. Manning is getting nailed by Chris Canty as he lets go of the ball. Both linebackers still have their eyes in the backfield while Thomas passes them. The FS to the left has barely moved since the ball was snapped with DT moving toward him. The right FS is moving toward Wes Welker on the sideline. The middle is wide open for Julius Thomas.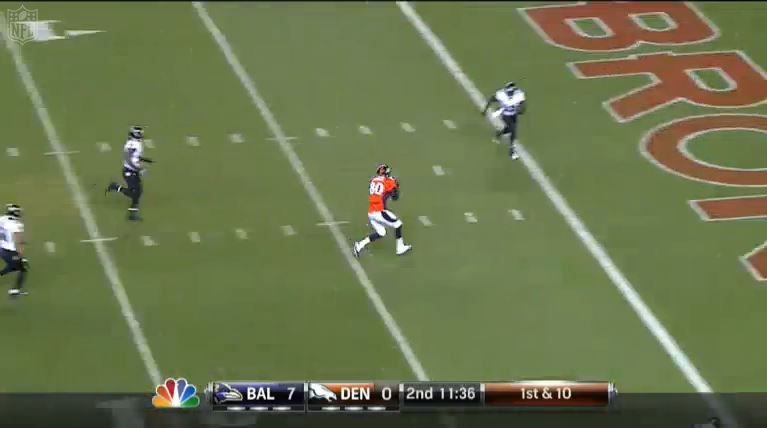 James Ihedigbo comes across from the left FS spot but he can't catch Thomas in time. Touchdown Broncos!
Recap: The play design made this play. The fake WR screen draws attention, and then Manning hits JT with a perfect pass to score.
TD 2: 23 yards to Julius Thomas
http://www.nfl.com/v...-yard-touchdown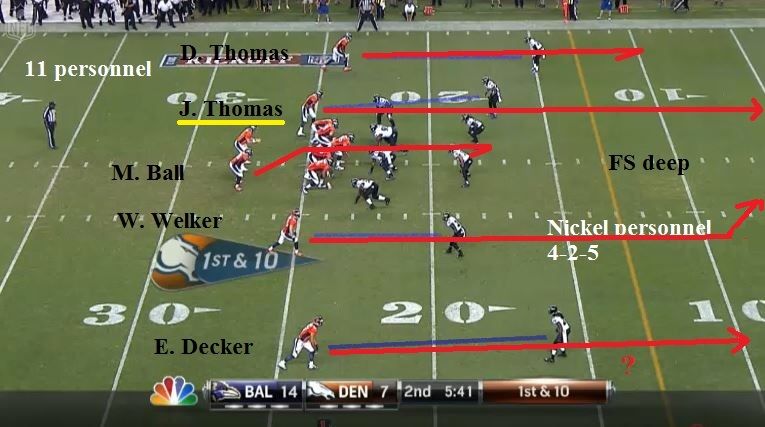 First and 10 from the Baltimore 23. Similar down and distance to last time. Again, 11 personnel with Montee Ball the RB instead of Moreno. Julius Thomas is standing in a two-point stance off LT Ryan Clady. Cover 1 high safety with man coverage for the WRs and Thomas. Suggs standing in two-point stance, Ravens again in a 4-2-5 with a safety up in the box.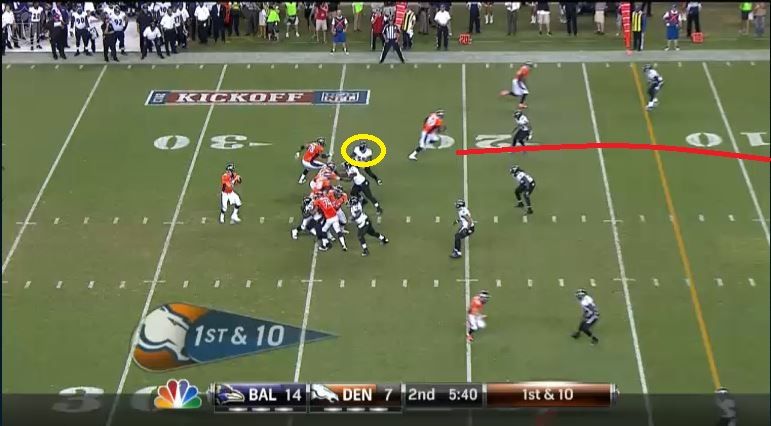 Playaction for Manning again. Ravens only rush 4. It's a straightforward play so far. Two LBs playing middle zone pick up Montee Ball as he comes out of the backfield. Suggs initially rushes at Clady but cuts toward center in a bit of a stunt.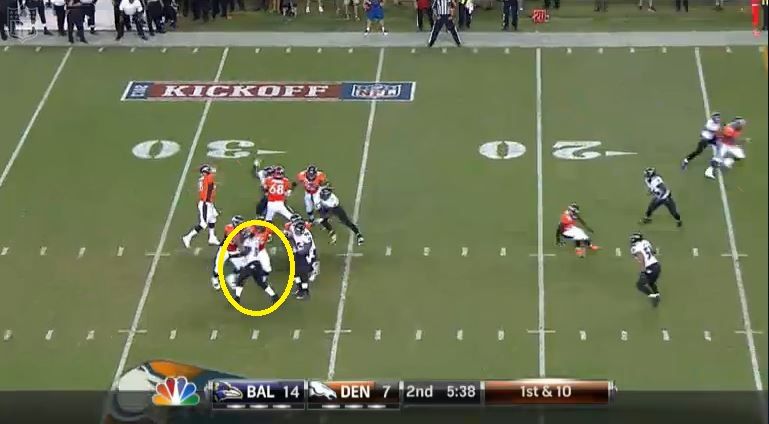 Elvis Dumervil is being double-teamed into non-existence on the bottom of the pocket. Ball is out of the backfield and looking back. Manning is delivering the ball to Thomas, who is actually being well-covered by S Michael Huff.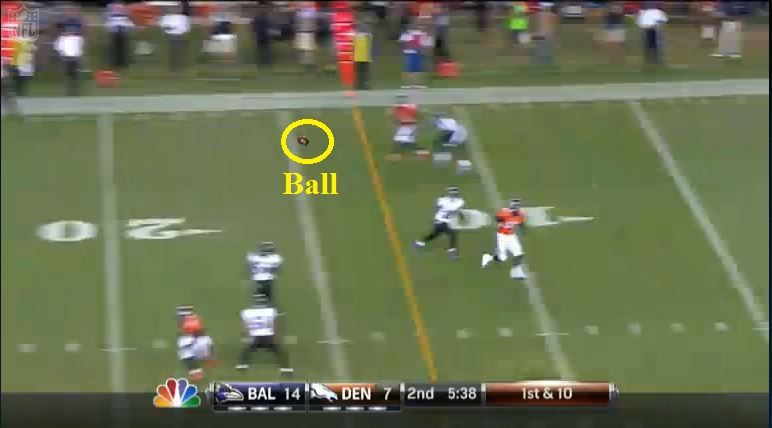 However, as the ball is thrown, Thomas has an easy step on Michael Huff, who simply didn't put enough effort in.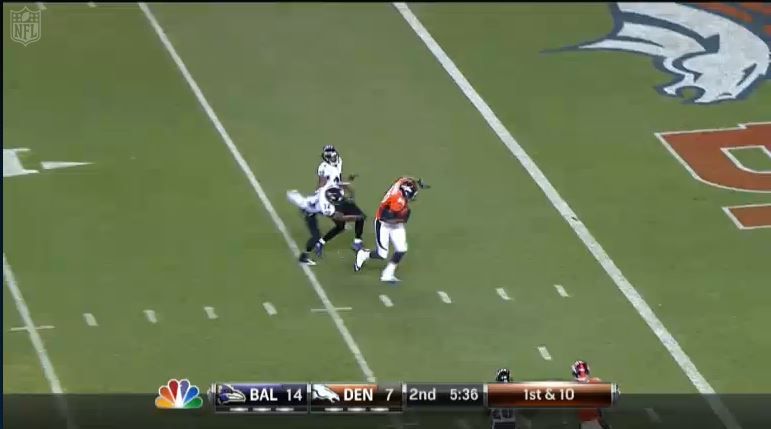 As the ball arrives, Thomas makes the catch and easily breaks James Ihedigbo's tackle for the touchdown.
Recap: This TD was thanks to Thomas just outrunning Huff. Huff didn't really put any kind of good coverage on Thomas: he wasted a very good position by not pursuing enough.
TD 3: 28 yards to Andre Caldwell
http://www.nfl.com/v...touchdown-catch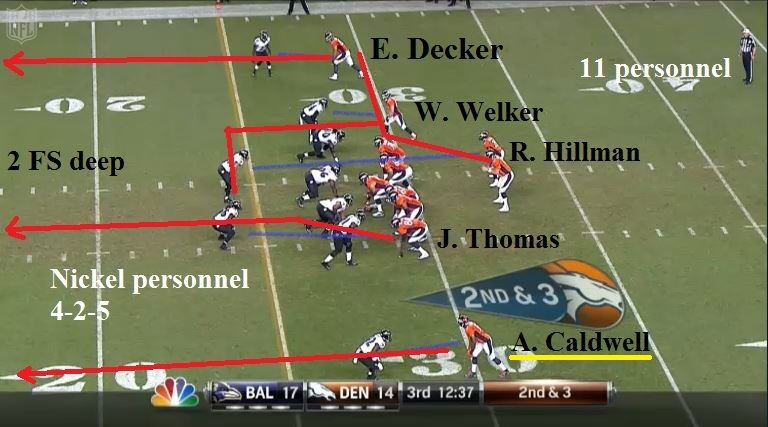 2
nd
and 3 from the Baltimore 28. Again, 11 personnel with Ronnie Hillman the RB and Andre Caldwell in at WR. Cover 2 with two safeties deep. Man coverage except on Decker. Ravens again in a 4-2-5 with a safety up in the box.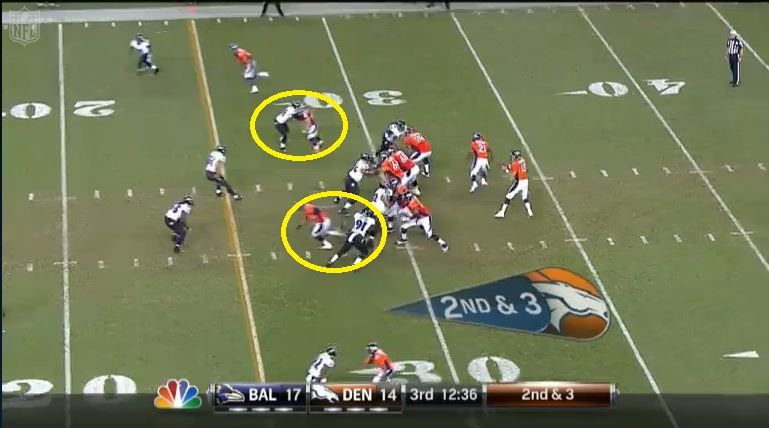 The Ravens jam Welker in the slot and Julius Thomas (both circled in yellow). Ronnie Hillman releases into his route. Caldwell is just getting past Jimmy Smith in coverage.
One of the safeties (just off-screen, yellow arrow) keys in on Julius Thomas. There is no one deep to prevent Caldwell Peyton, who has been staring down Caldwell, commits to the pass even before he's open. However, Caldwell will get a step on Smith: 4.37 40 yard dash speed trumps 4.42 40 yard dash speed.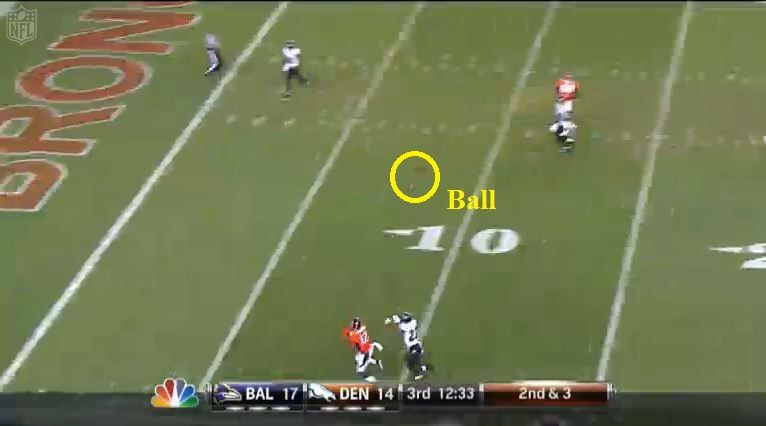 Manning throws an absolutely beautiful perfect pass here. Jimmy Smith has absolutely no chance at this. Caldwell takes it in for the score.
As is often his problem, Smith has no idea when the ball is arriving and looks back just too late.
Recap: Caldwell's speed is the key here. There's just no defending it and Jimmy Smith gave up the step.
TD 4: 5 yards to Wes Welker
http://www.nfl.com/v...-yard-touchdown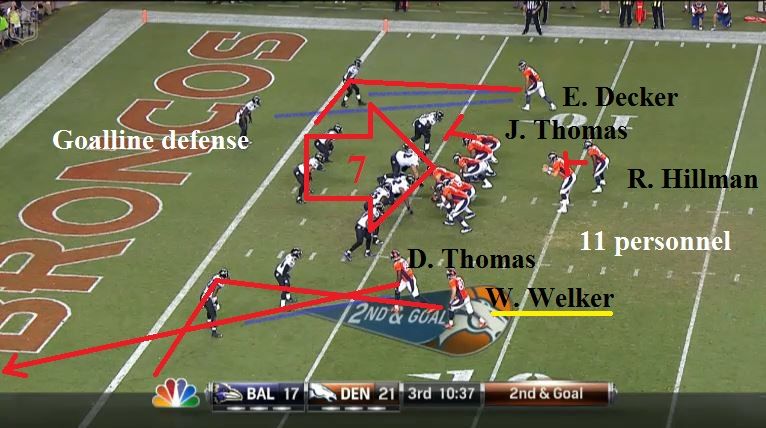 2
nd
and goal at the 5. Broncos lined up in 11 personnel with Hillman at RB. The Ravens will blitz 7; the Broncos only keep 6 in. Decker is double-covered; DT and Welker will be single-covered.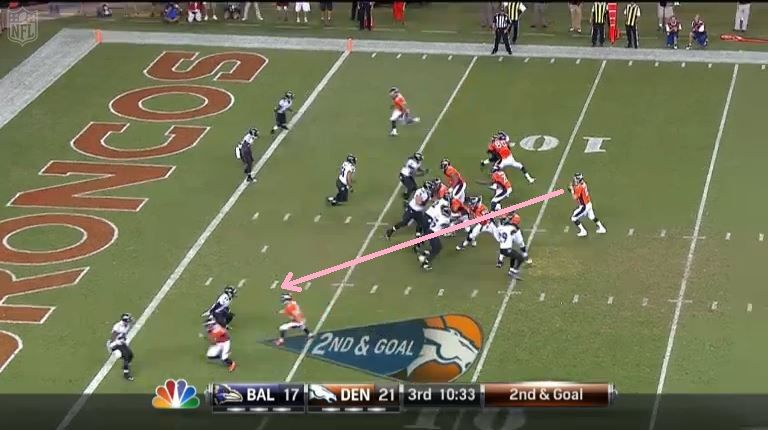 The blitz begins. Manning drops and immediately looks left.
Welker gains a step on Corey Graham and Manning delivers the ball. Of note on this play is Julius Thomas' lockdown block on the top of the screen and Terrell Suggs jumping trying to get a hand on the ball.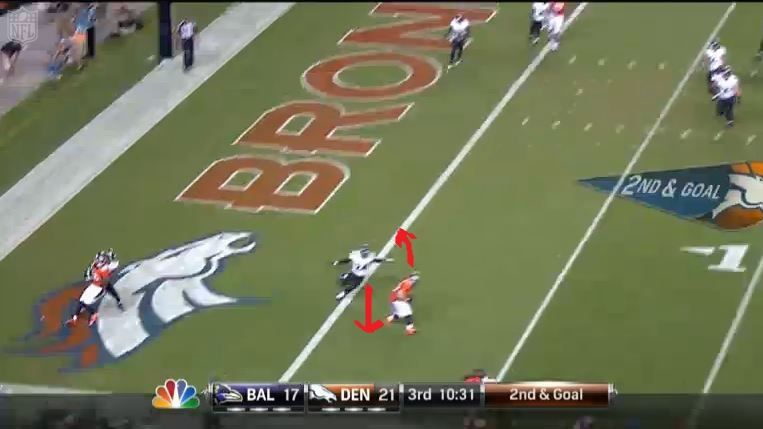 The reception. Welker is about to cut back on a dime right across the face of Corey Graham. Great cut by Wes.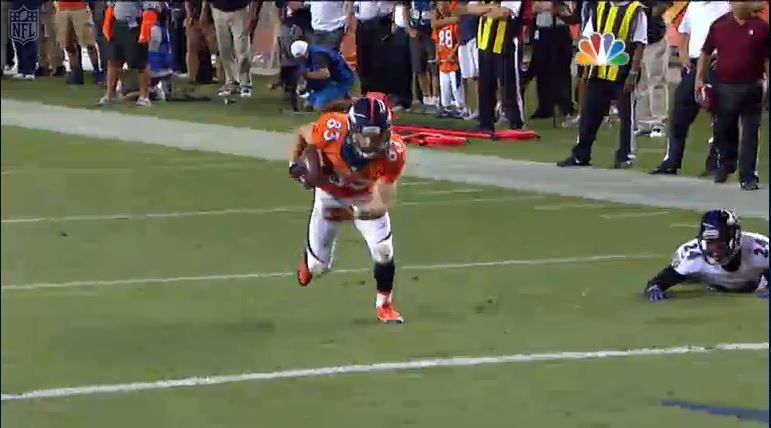 Touchdown!
Recap: Good job by the offensive line, Hillman and Julius Thomas to keep Manning upright long enough to deliver the ball. And good job by Welker cutting back to get in for the score.
TD 5: 2 yards to Wes Welker
http://www.nfl.com/v...-yard-touchdown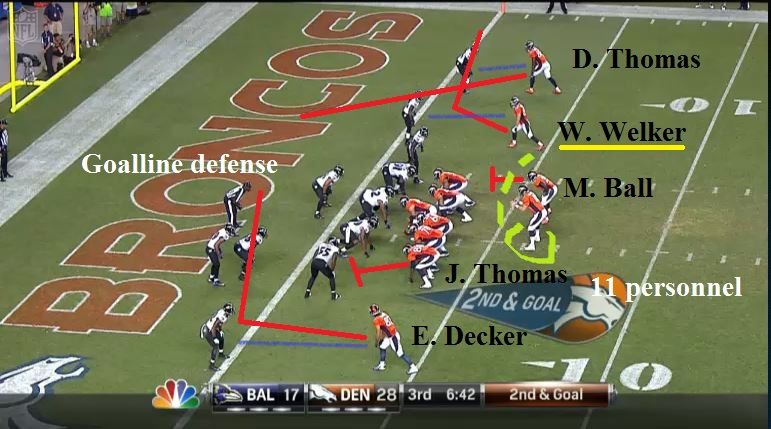 2
nd
and goal at the 2. Broncos once more in 11 personnel. The Ravens are obviously expecting a run with 8 men in the box. They will bring all 8 of them. Peyton is going to roll to his right.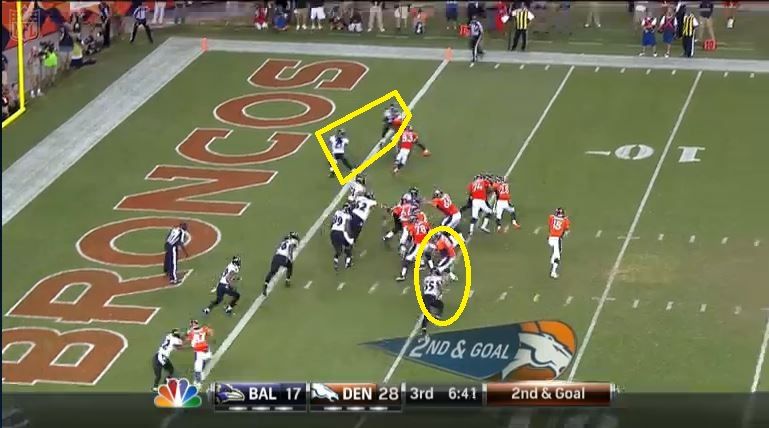 Peyton rolls right. Protection is excellent. Demaryius Thomas crosses the face of the defenders and takes Lardarius Webb out of the equation.
Note Julius Thomas matched up one-on-one with Terrell Suggs at the bottom. He had a phenomenal chip block on Suggs earlier in the night: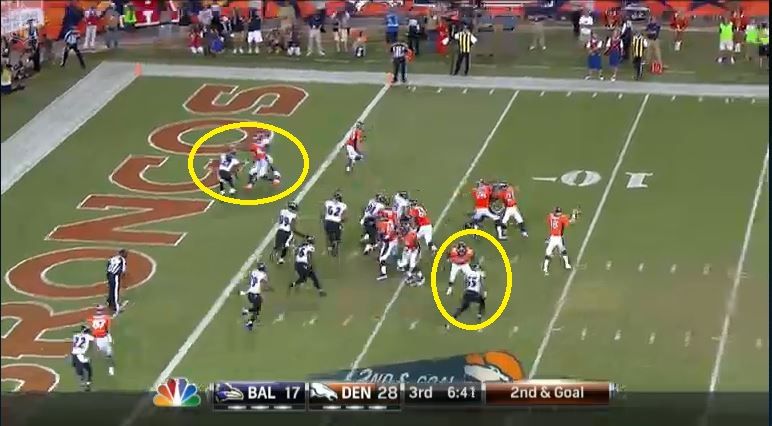 Too easy.
Recap: Manning to Welker in the red zone will be money every time. Demaryius crossing the defenders helped but it's only ever going to be an eventuality.
TD 6: 26 yards to Demaryius Thomas
http://www.nfl.com/v...-touchdown-pass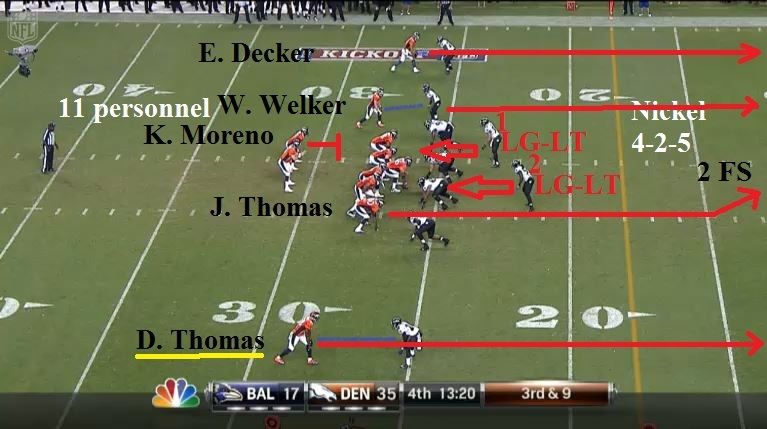 3
rd
and 9 at the Baltimore 26. The Broncos are in 11 personnel, which is going to be their bread-and-butter package this season if you couldn't already tell. Moreno is the back.
The Ravens are in their 4-2-5 nickel and have a 2-deep Cover 2 look. They will bring both the LBs in a double B gap blitz on the LT-LG side. Manning slides Moreno over to cover. The playcall is a fairly straightforward verticals.
The blitz is coming. Moreno squares to take #51 Daryl Smith through the hole. LG Zane Beadles is doubling giant NT Haloti Ngata with C Manny Ramirez. Wes Welker is getting jammed off the line in the slot and it's a pretty good press coverage. Julius Thomas takes off in the middle of the field.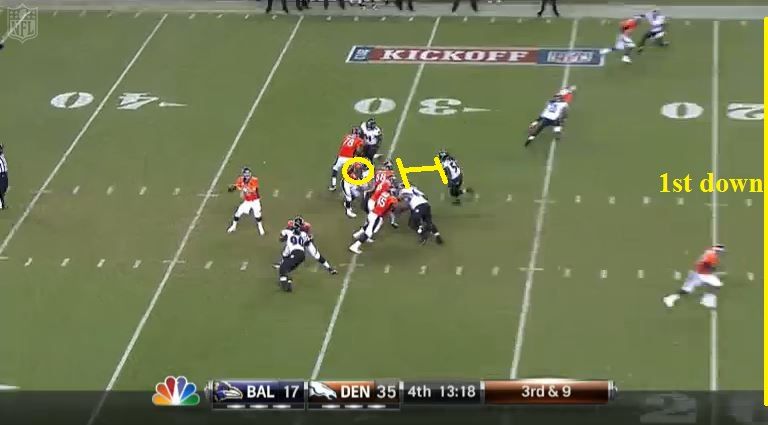 Moreno is blocking Daryl Smith. Beadles slides off the block (helmet circled in yellow) and is ready to take Josh Bynes. Welker gets off his jam and releases into a fly route. Julius Thomas will actually be wide open for the first down but the safety on that side slides over to cover him, which leaves Demaryius Thomas on an island with the corner with no help over the top. That is going to be a win every day of the week for DT.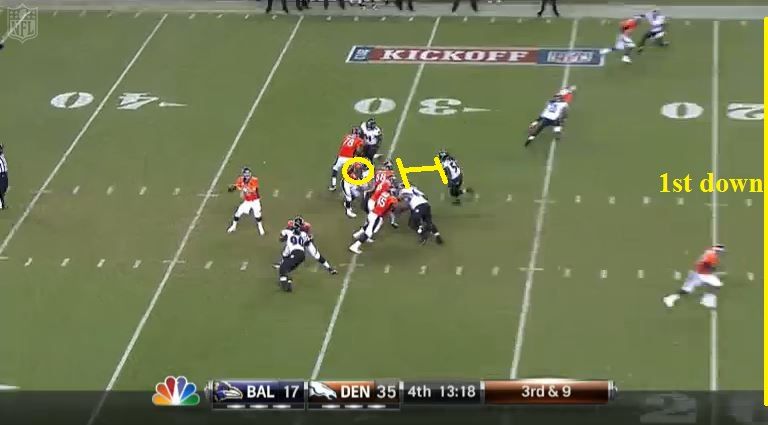 Julius Thomas looks like he's open for the first down but there's a safety about five yards off-screen. Manning commits to the pass to Demaryius.
Julius Thomas cuts into a post route. The nearside safety moves toward DT but it's far too late. The ball is perfectly placed by Manning. The corner still isn't looking back and never will, actually. Mistake. Game over.
Recap: With the blitz coming and man coverage across the board, Manning puts in a perfect throw to beat the corner.
TD 7: 78 yards to Demaryius Thomas
http://www.nfl.com/v...-game-TD-record
Third and 8 for the Broncos, on their own 22. The Ravens' slot corner on Welker moves into tight coverage: he looks like he's blitzing. The Ravens will bring everybody with a red arrow. Dumervil accidently lines up in the neutral zone: it won't matter though.
Manning audibles "Alley, alley, alley. Hurry hurry."
http://i1329.photobu...zpsf9cf4e2a.jpg
It's a good blitz but they won't even sniff Manning. Manning takes the snap and fires to DT. Welker is taking DT's corner, Ryan Clady is taking the nearside safety and Zane Beadles is moving out as well.
http://i1329.photobu...zpsec0ce717.jpg
Welker's putting his block in place as the ball arrives. Clady and Beadles are hustling downfield.
http://i1329.photobu...zps553a2ce5.jpg
DT hustles through the gap with two Ravens in pursuit. There are actually four near DT.
Welker has his block and Clady is engaging. Beadles is just in front of DT.
http://i1329.photobu...zps4308e1f8.jpg
Clady doesn't get a good block at all. His man, Michael Huff, (circled in yellow) is right there next to DT.
http://i1329.photobu...zps2feec49d.jpg
However, DT has speed. He basically puts the jets on and runs right by everybody. Beadles is still involved in the play.
http://i1329.photobu...zpsfdcf8f85.jpg
First, note Eric Decker who has come across the formation into the play. Beadles puts a great shoulder block into #26 Matt Elam and takes him out of the play. At this point, DT has wide open space in front of him and all he has to do is outrun Michael Huff, who Beadles has slowed down…
http://i1329.photobu...zpscab6fc61.jpg
Which he easily does. Touchdown #7 for Manning, his easiest.
Recap: A great audible for Manning here and well executed by the team. Good hustle by Zane Beadles downfield to close off the pursuit and well done by DT.
There you have it! Those were the Broncos' seven TDs in the game. Check in each and every week to see the film breakdown of all of the Broncos' touchdowns.
Lucas Polglaze is a Broncos Journalist for Pro Football Spot. Find him on
Google +
,
Twitter
, and
Facebook
.
Article: Film Review: The Broncos TDs Against the Ravens

Rules ·