Broncos TDs Film Review: The Jaguars
Nov 07 2013 12:00 AM | Views: 1020 | Lucas Polglaze in
AFC West
It's been some time, but I can still remember watching this game and marveling at the Broncos. They began the game flummoxed by the Jaguars' straightforward Cover 2 coverage. However, in the second half, they turned it around and absolutely put on a clinic. Here's the film of those TDs!
As always, first, an explanation of my film schematics. The red arrows indicate routes or movement, coverage (as best I see it) will be indicated in squares. Blitzers will have green lines. The scorer's name is underlined in yellow. Personnel are on the side in white. Once the play begins, I'll circle things in yellow to bring your attention to them and players' lines of sight will be in pink. The explanation of routes can be found here: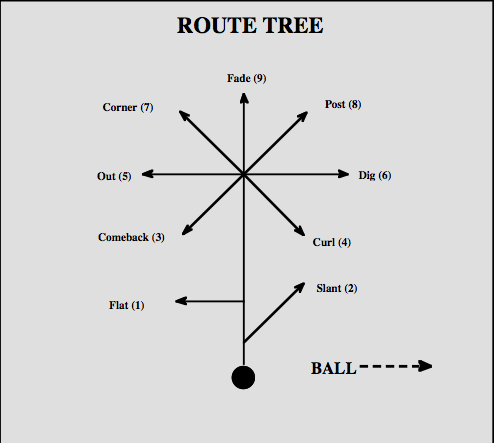 All this terminology and diagramming will be fairly clear when you see a play broken down. I list the TD# in game (with season-long numbers in parentheses).
TD 1 (30): 2 yard Julius Thomas pass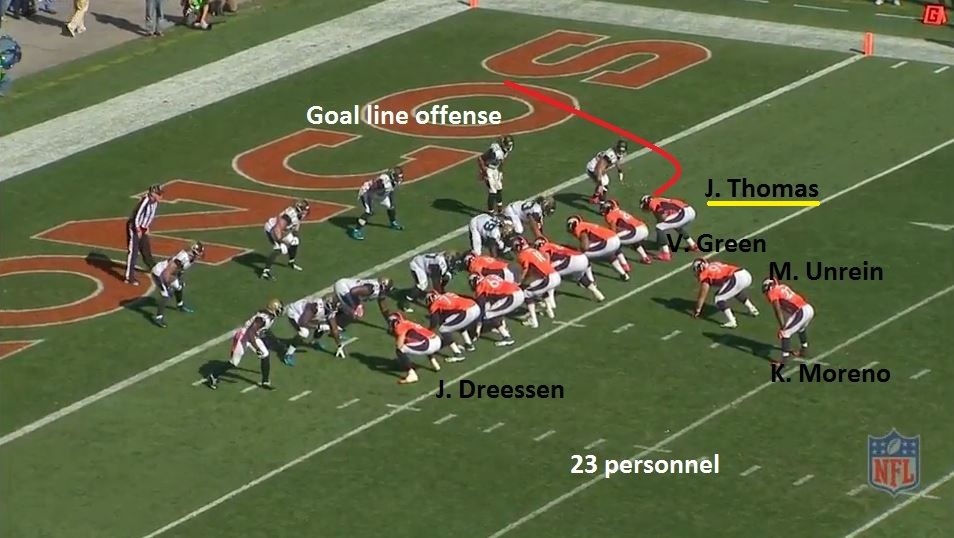 Broncos in 23 personnel, Moreno the back. 3rd and goal at the Jags' 2.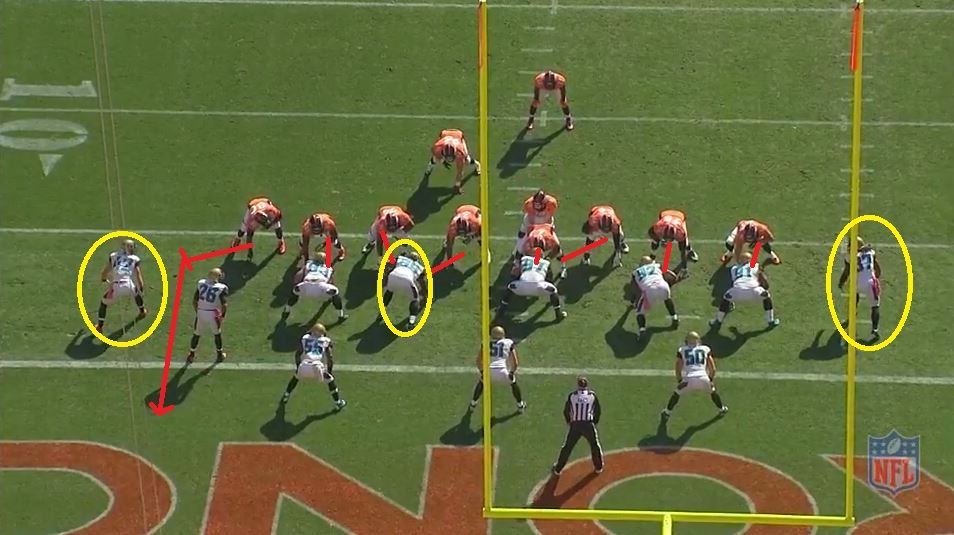 The blocking diagram. Note that Julius Thomas is going to chip S Chris Prosinski before releasing into a route. Keep an eye on the three circled defenders (left to right) S Prosinski, DT Sen'Derrick Marks and S Jonathan Cyprien.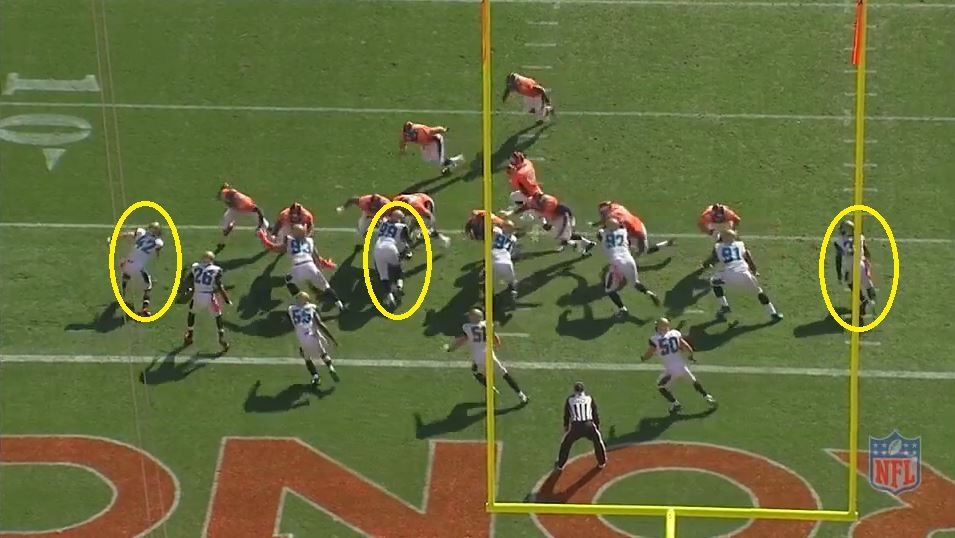 Post-snap. DT Marks is going to be taken by RG Louis Vasquez with a chip from RT Orlando Franklin. Cyprien is unblocked off the weak side by design.
The playfake. Cyprien is coming in full steam. Julius Thomas has just chipped Prosinski, who's coming for Manning. Marks is about to cut back inside on Vasquez, a great move.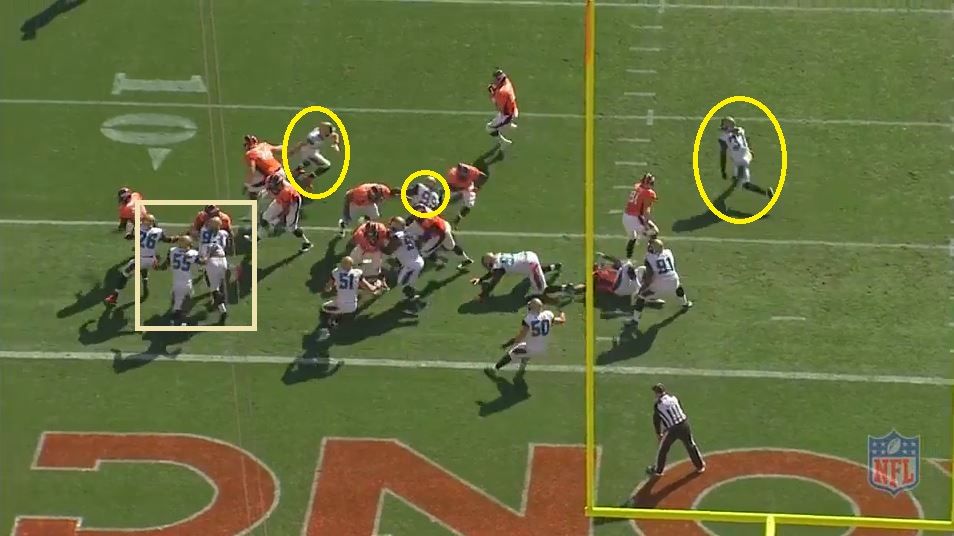 Here, Thomas is heading downfield. Prosinski gets by DT Mitch Unrein at the FB position. He is simply too fast for Unrein to deal with. It also looks like Unrein was heading to the RT-Virgil Green gap to block and didn't see Prosinski coming off the edge, only getting in a chip block.
As an aside, let's talk about Virgil Green. He is sealing up three men on the left side of your screen. Great work.
Marks has executed an outstanding inside rip move to get by Vasquez. He, Prosinski and Cyprien are all coming for Manning.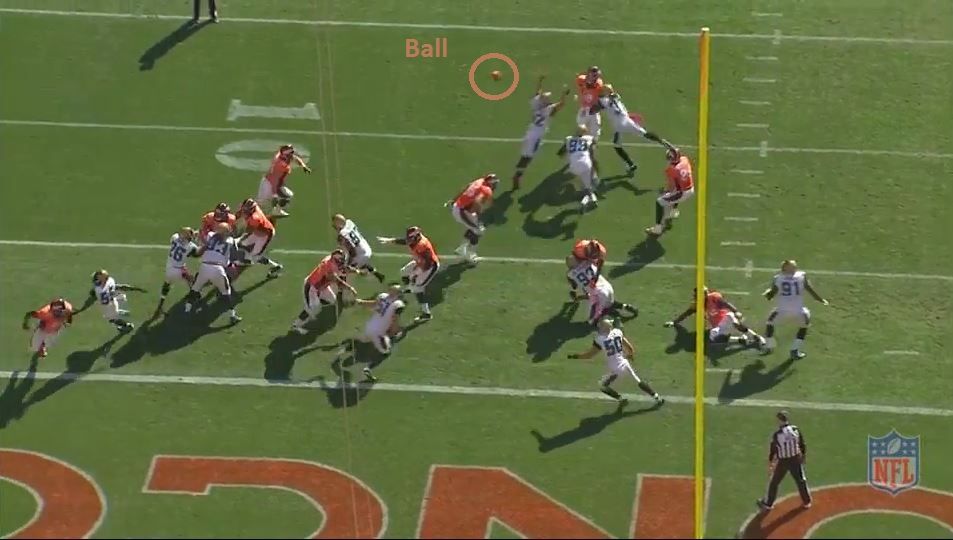 Manning lets go of the ball as he gets hammered by the Prosinski-Marks-Cyprien bunch. Thomas is turning LB Geno Hayes (#55) around as he goes by.
Manning is flat on his back as the ball arrives to a wide-open Julius Thomas.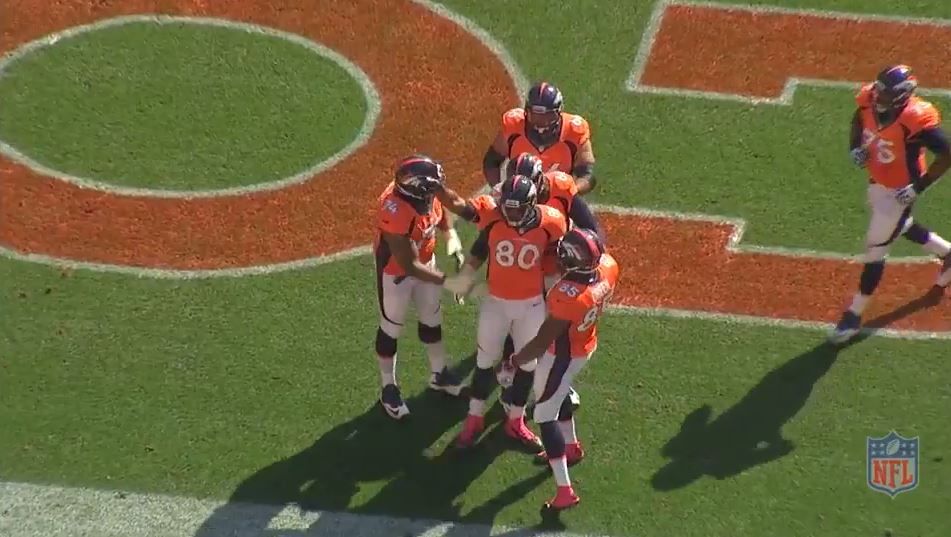 A Mile High Salute from Julius Thomas after the score!
Recap: Although there was some bad blocking involved (and Manning getting nailed, which the Broncos cannot afford), the Broncos still score. Bizarre play concept but it worked.
A note: Manning was definitely playing hurt in this game. He was not at 100%. After that hit (enlarged view here), he ends up lying on his face, hands on his head, clearly in pain. That was probably the reason for the awful throw that Posluszny was able to score on.
TD 2 (31): 20 yard Wes Welker pass
Broncos in 11 personnel, Moreno the back. They are working with a 1st and 10 at the Jaguars' 20.
Right off the bat, we notice the Jaguars are (surprise surprise) showing a Cover 2 zone. That's exactly what we'll get.
Note Julius Thomas lined up by himself on the outside. This is crucial. The Broncos did the same thing against the Cowboys. What does this do? It means the defense has to take a corner and leave him on the outside to maintain the integrity of their Cover 2. Ergo, a LB (in this case Paul Posluszny) along with 2 corners is going to end up having to cover Welker, Decker and Demaryius. The zone helps to mask this problem but not a lot.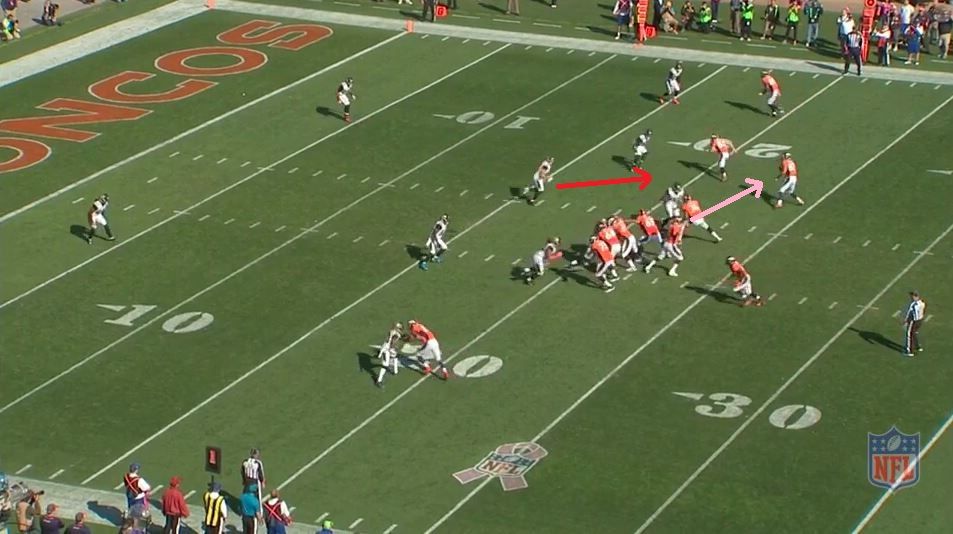 The previous play, the Broncos ran a bubble screen to Decker that gets the first down. This time, they'll do something diabolically similar.
Just before the snap, Posluszny shimmies three steps to his left.
Now, after the snap, Manning looks down and pumps to Decker, who is again running a bubble screen concept.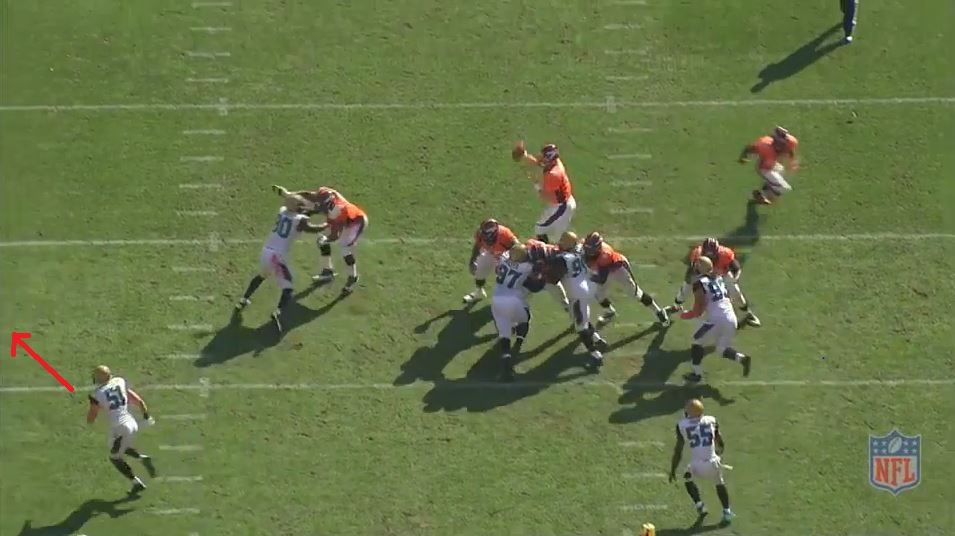 Manning pulls it down as Posluszny continues to charge over.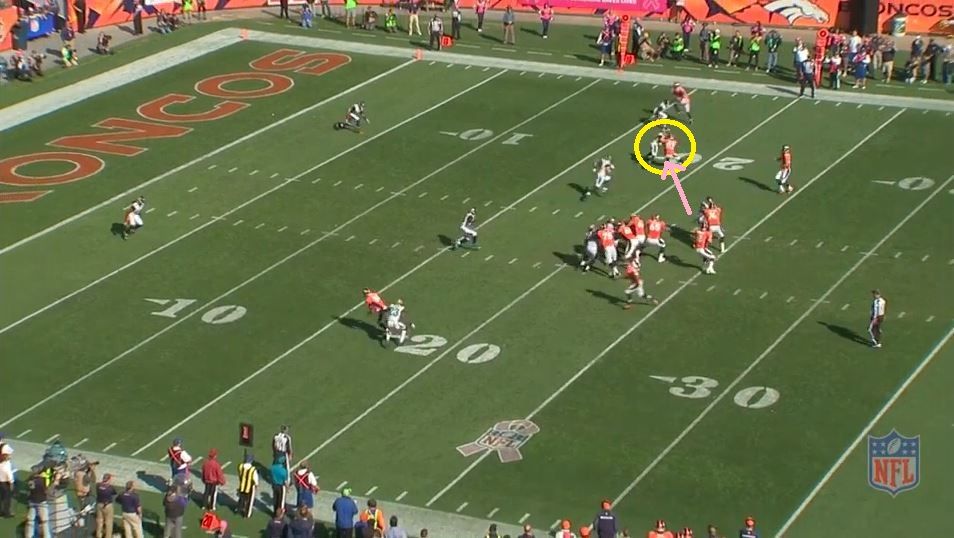 Decker does a great job putting his hands up as if expecting the ball. Note Welker here, who appears to blocking downfield for the bubble screen. Peyton has his eyes on him.
Welker shrugs off his man and heads downfield. LB Posluszny finally stops, realizing his mistake. But it's too late.
Welker simply peels past Posluszny and the corner. The safety's attention is drawn by Demaryius' go route down the right sideline.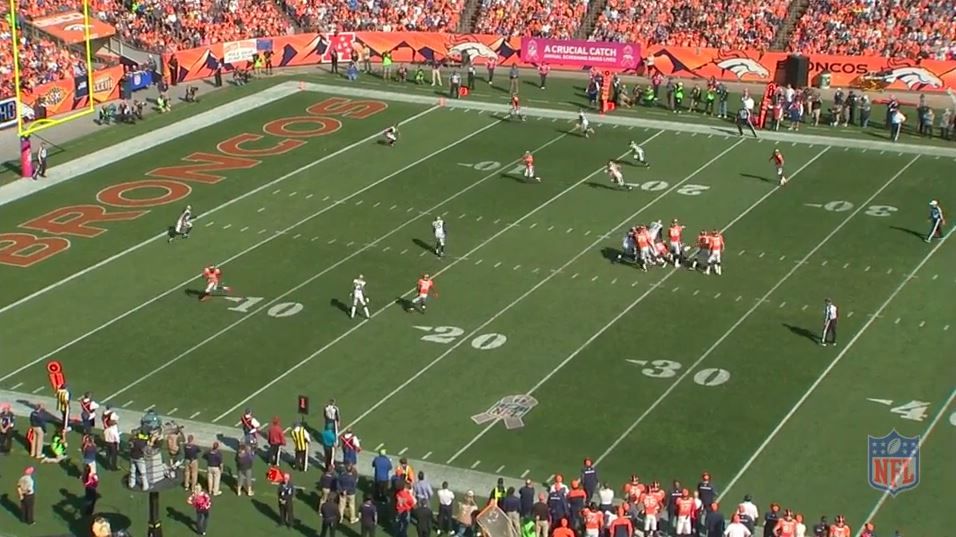 Welker makes the catch at about the 12 with plenty of space. Cyprien, the far safety, has noticed and will charge in.
Touchdown!
Recap: The Broncos run bubble and tunnel screens so often that they are able to scheme and trick the defense into playing a screen when they are in fact just doing that to pull them in and hit them deep. Recall that we've seen this before, the first example being Week 1.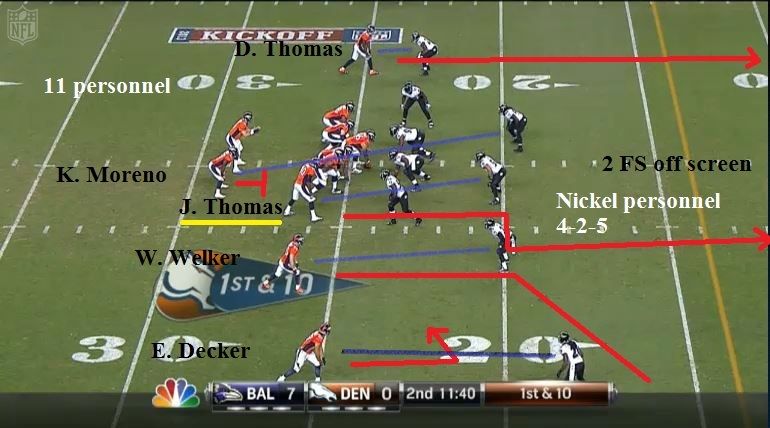 TD 3 (32): 1 yard Moreno run
Broncos again in goal-line 23 personnel, Moreno the back, Unrein the FB. Second and goal at the 1.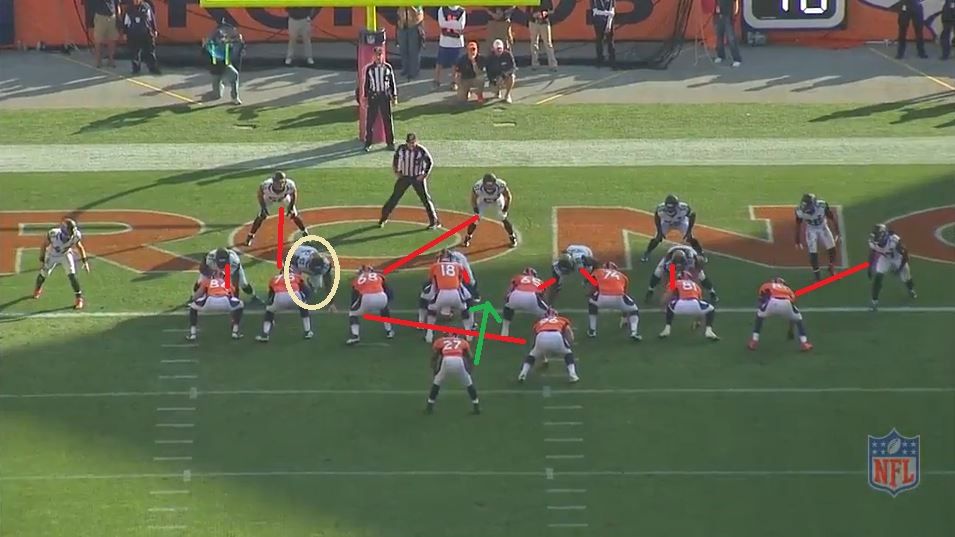 The blocking scheme. Effectively, the Broncos are going to run it right up behind Manny Ramirez in the C-RG gap.
Of note is that the Broncos leave the weakside 4-tech (circled) unblocked at the point of attack. Instead, Mitch Unrein comes across and makes that block.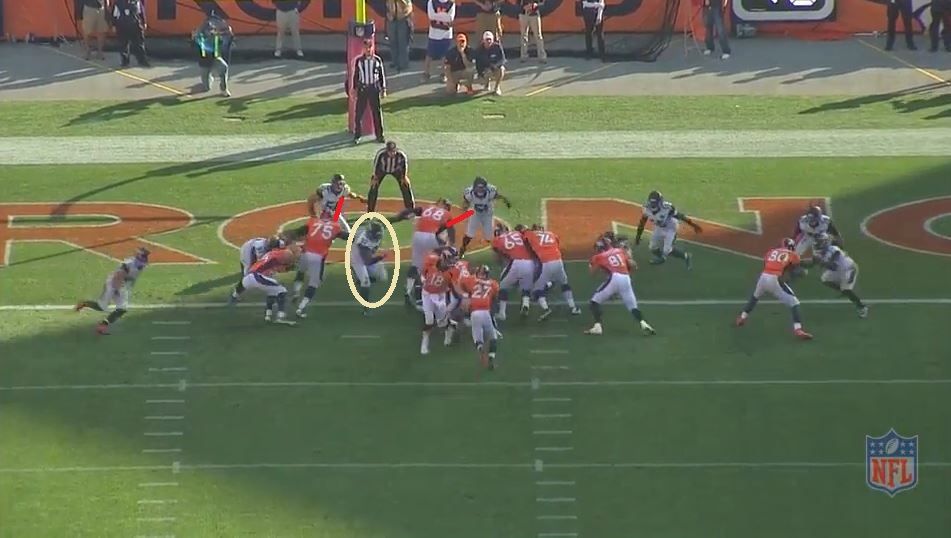 The 4-tech is still unblocked as Unrein comes across. Clark and Beadles are moving out to get their blocks in on the linebackers.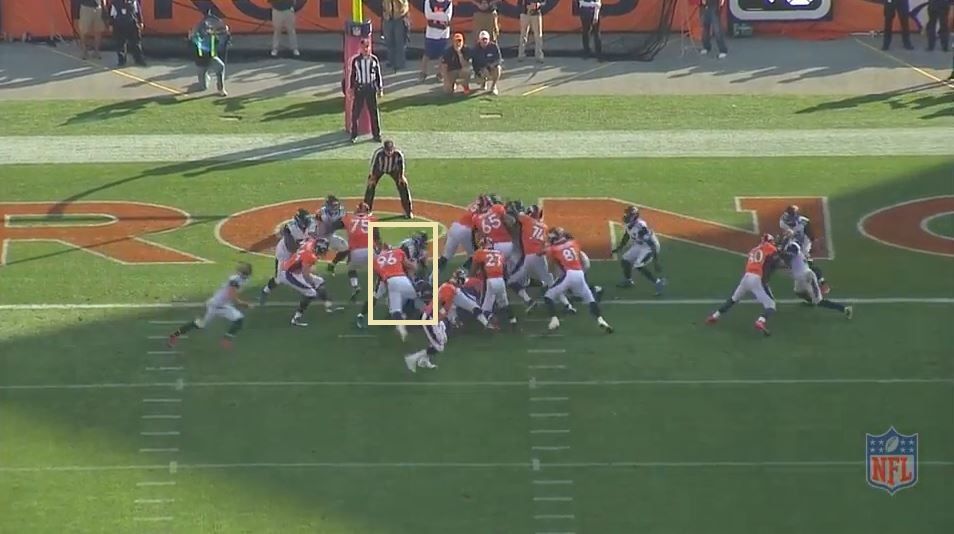 Unrein's block comes in on the Jags' 4-tech. Great block, it leaves Moreno's hole open and he scores standing up.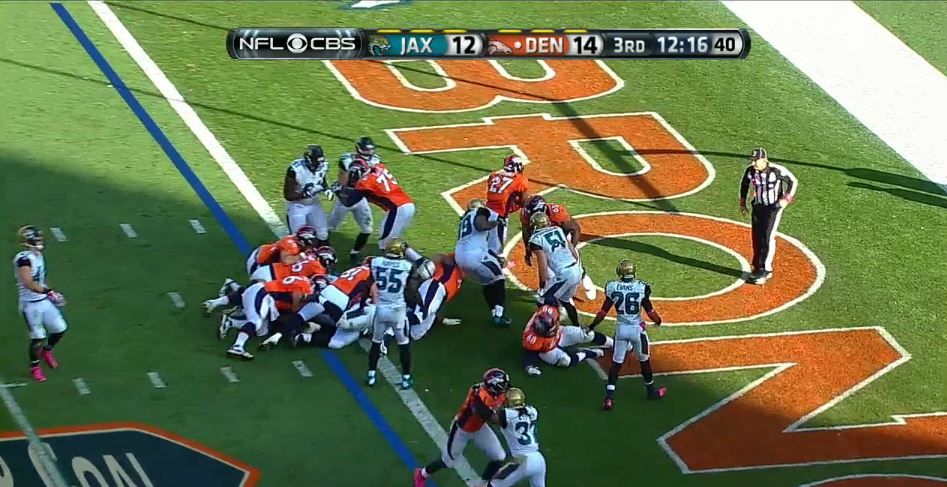 Recap: Good push from the line, a good block from Unrein, good running from Moreno. Nothing extravagant but it puts the points on the board.
A note: RT Orlando Franklin was injured on this play. RG Louis Vasquez slid over to RT and Chris Kuper came in at RG.
TD 4 (33): 8 yard Moreno run
Moreno the RB here in 11 personnel for the Broncos as they set up at the Jaguars' 8. Third and 2. Manning does the math and calls a run.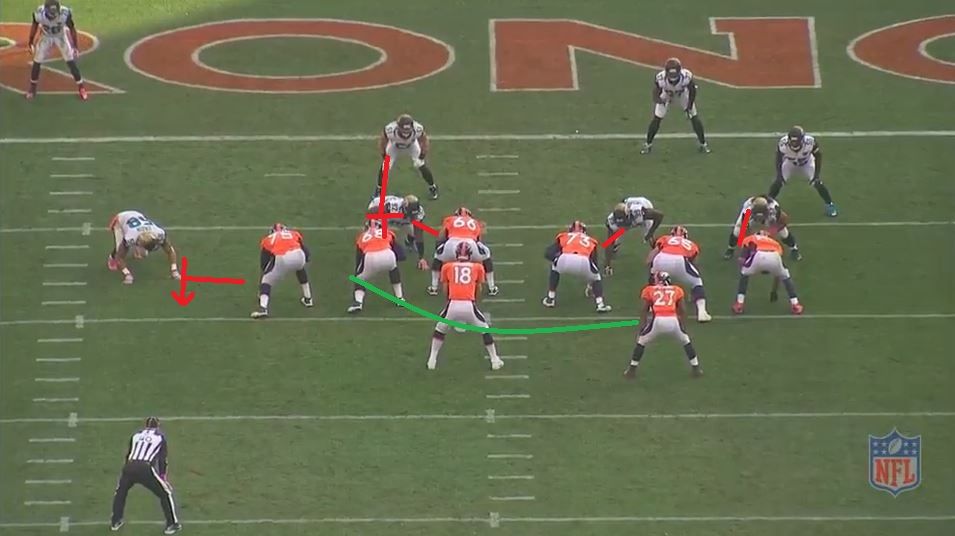 A few things of note. Chris Clark at LT is going to block Jason Babin (the weakside 9-tech in a 4-point stance) upfield, using his speed to direct him away from the play. Keep an eye too on RT Louis Vasquez and TE Julius Thomas.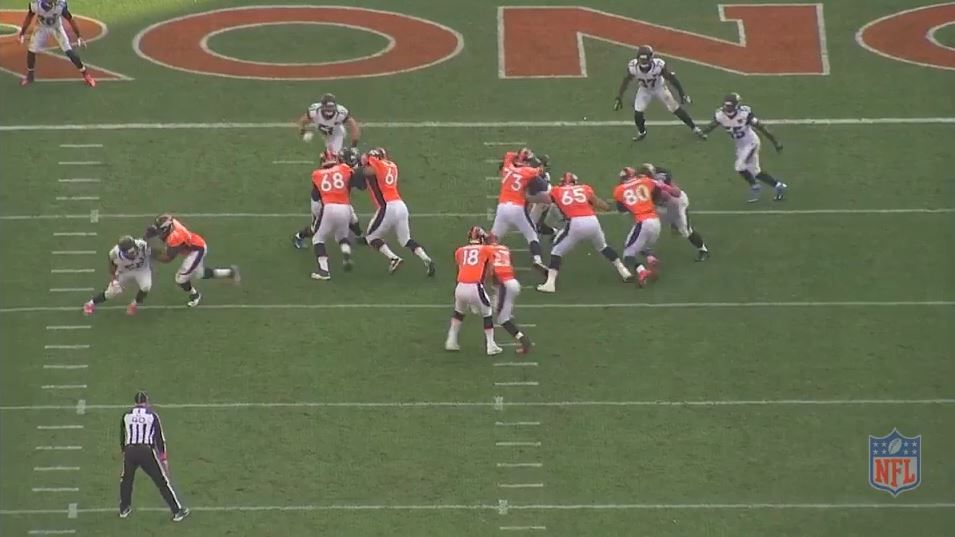 At the handoff, the line is doing a great job clearing holes. The run is supposed to go just left of LG Zane Beadles (#68), who is about to disengage from his double-block and take on LB Paul Posluszny.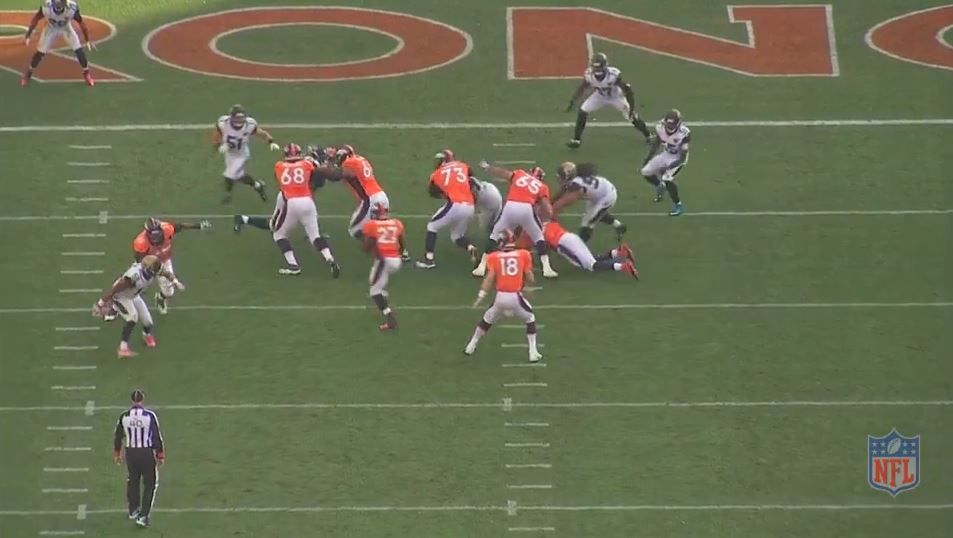 Moreno at this point is content to follow Beadles. Also, check out the right of the line. TE Julius Thomas has fallen and is about to trip up RT Vasquez. Can't do that. RG Chris Kuper (#73) and his man are about to trip and fall as well. Cue Yakety Sax.
Down goes Vasquez! And Kuper!
Moreno is about to cut back right and go in between C Manny Ramirez and RG Kuper.
Moreno deftly hurdles Kuper and his man. S Jonathan Cyprien is coming up to try and make the stop.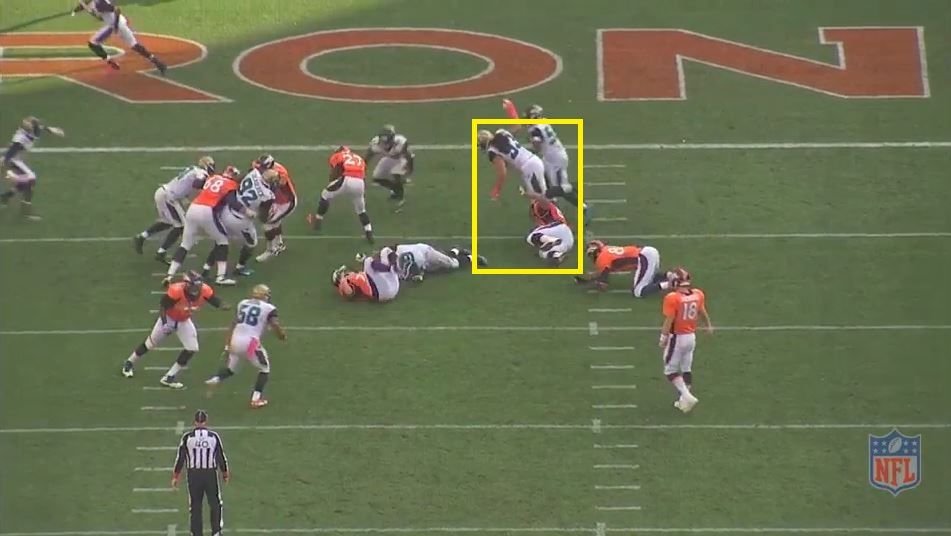 Moreno lowers his head into Cyprien and churns his legs as he fights for the goal line. Meanwhile, RT Vasquez is still trying (albeit helplessly) to bring his man down.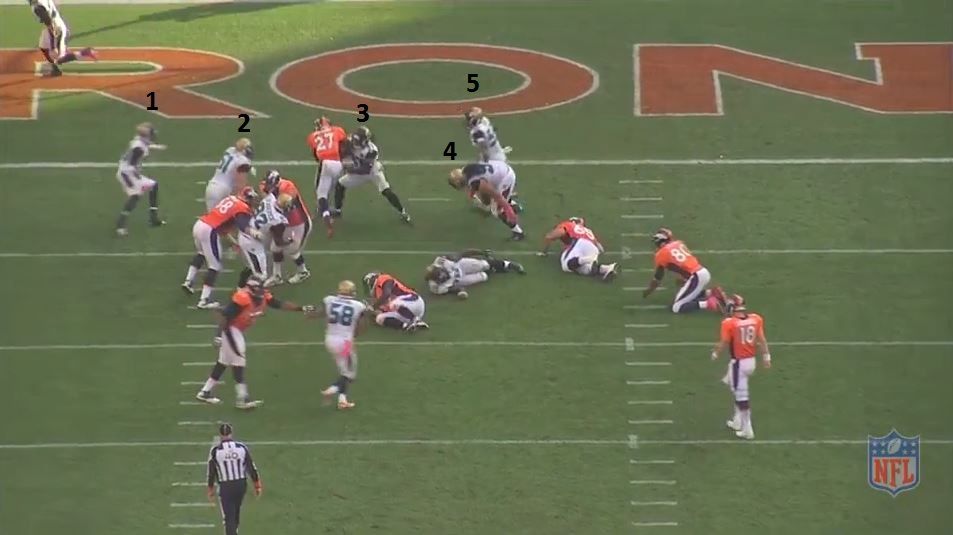 Moreno rocks Cyprien and keeps going. Check this out: there are five Jaguars near Moreno. They may touch him…but they can't stop him.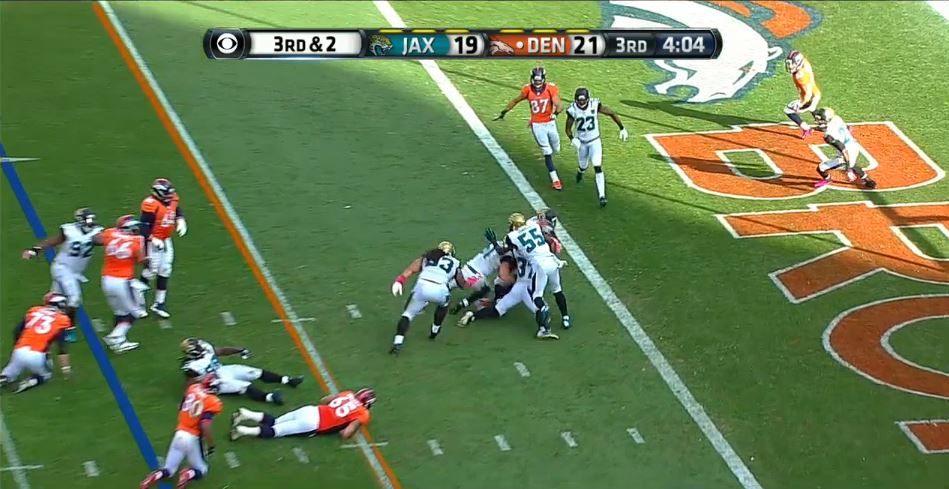 He has four tacklers all over him and still he scores.
Recap: Great job by the line to clear holes. But…look…when Moreno is running hard, you cannot stop him, no matter how hard you try. It just isn't going to happen. Four tacklers couldn't bring him down. That, folks, is a MAN.
TD 5 (34): 8 yard Moreno run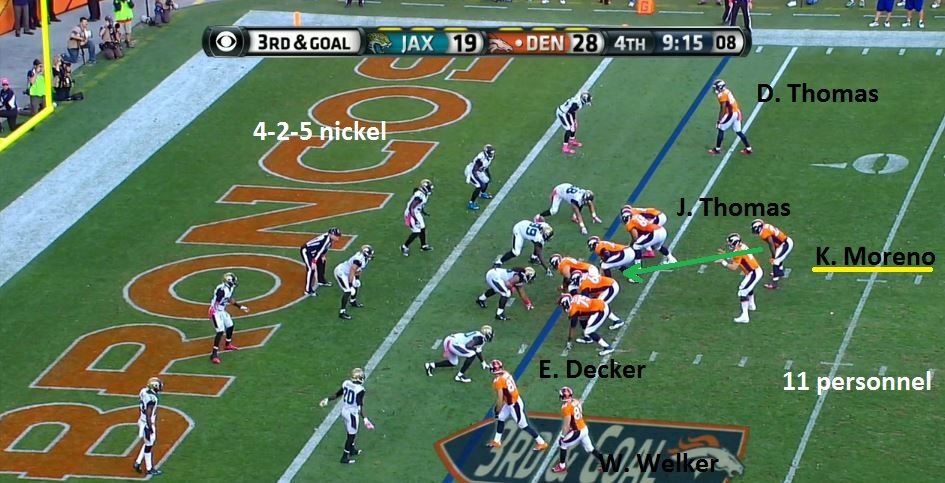 Third and goal, Jaguars' 3. 11 personnel again for the Broncos.
Again, it's a run from shotgun from Moreno. Again, Jason Babin is in a 4-point stance (not shown in this image) and Julius Thomas can simply direct him upfield.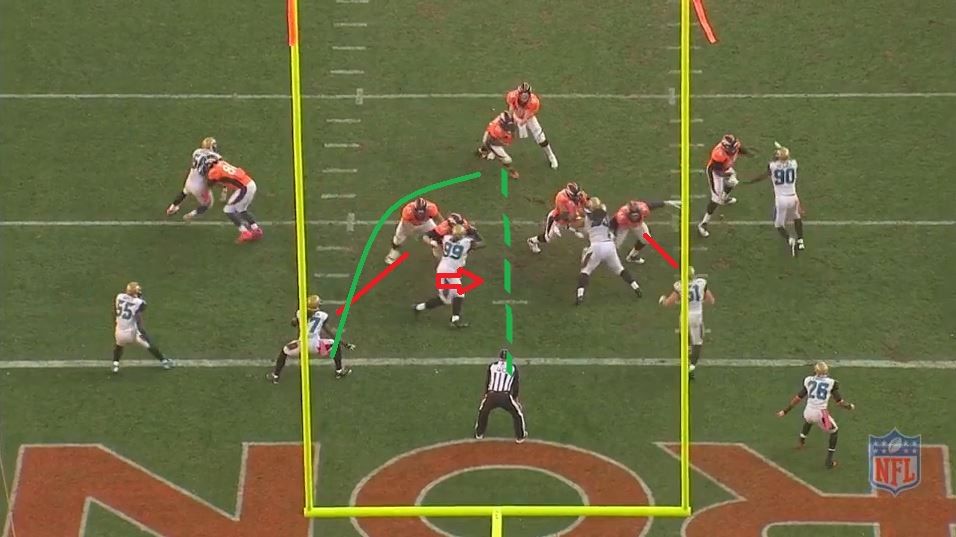 Although the run was supposed to go in the C-RG gap, Moreno likes what he sees better behind RT Vasquez, especially as #99 Sen'Derrick Marks is going to be directed into that hole.
Moreno starts his cutback as RT Vasquez bears down on S Jonathan Cyprien.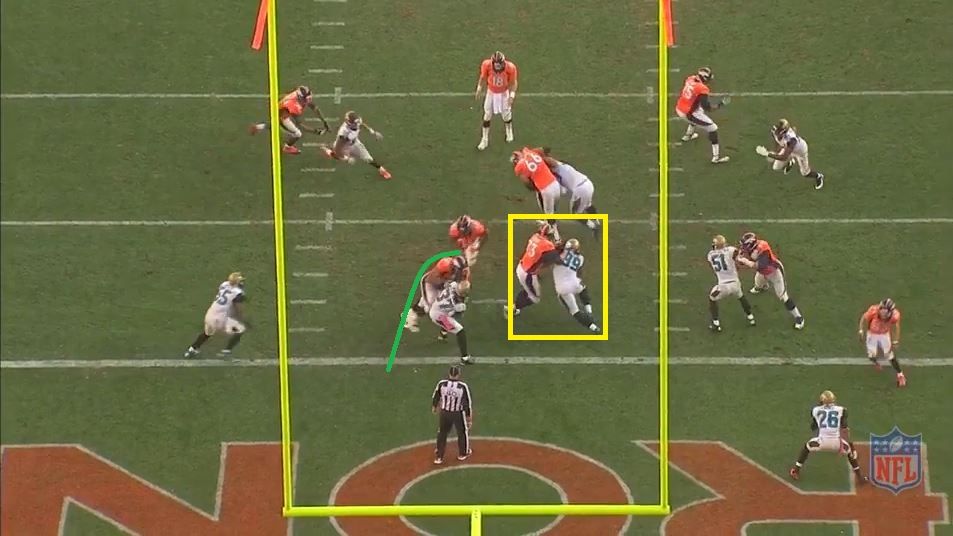 Moreno is going to go around the Vasquez-Cyprien roadblock. LB Geno Hayes is going to be too far out of the play to make an impact.
Although you can't really see it from these images, RG Kuper is basically walking Marks out of the play with seemingly no effort. Pretty impressive.
Moreno dives into the end zone.
Recap: The Broncos' line does an outstanding job blocking here. Kudos in particular to RT Vasquez and RG Kuper. Moreno is able to cut back and find a huge hole into the end zone.
And there you have it! All of the Broncos scores against the Jaguars. As always, feel free to ask me any questions if you have them and see you next week for a breakdown of the Broncos' one and only loss on the season.
Lucas Polglaze is a Broncos Journalist for Pro Football Spot. Find him on

Google +

,

Twitter

, and

Facebook

.