Analyzing the Colts Roster Heading into Week 1
Sep 02 2013 12:00 AM | Views: 1624 | Jake Arthur in
AFC South
So far, I have not been too surprised with how the Colts roster looks today. I won't say I am not disappointed in a couple of the moves that were made, but I stand behind the organization and what they decide to do. Ryan Grigson and Chuck Pagano have yet to lead us astray, so I trust they won't start now.
On offense, rookie running back/kick returner Kerwynn Williams made the cut to 53, but was waived a day later in favor of an undrafted rookie tight end in Jack Doyle that plays a style that the Colts already have in Justice Cunningham. I am really trying to reserve judgment on this transaction, but this is one of the two moves that have burned me thus far. Williams was going to provide a spark in the run game when called upon, not to mention whenever he would get the chance to return a kick. They may have hopes that he will clear waivers and he can be added to their 8-man practice squad, but he is too talented to assume that no other team will claim him. Assuming the Colts get lucky and get him onto the practice squad, another team can always sign him off of it.
Next, what does the acquisition of Jack Doyle mean for Cunningham? Will they pick Doyle over Cunningham and let him walk? I would be a bit peeved at that, as well.
On defense, the Colts made the tough decision to waive defensive lineman Drake Nevis. Many fans and Colts writers were disappointed/puzzled by this pick. I understand it in the sense that between Nevis, Ricardo Mathews, Fili Moala and Montori Hughes someone had to go. However, Moala played very well last year before tearing his ACL and Montori Hughes was selected in this year's draft with a mid-round draft pick. Teams are not just going to give up on a 4th Round draft pick that easily. That left it between Mathews and Nevis. Perhaps Mathews' ability to play more frequently on special teams was the deciding factor.
In the defensive backfield, I was surprised to see the team pick Josh Gordy over Marshay Green, and was ecstatic to see that safety Delano Howell had made the roster, although that was very expected.
ACTIVE ROSTER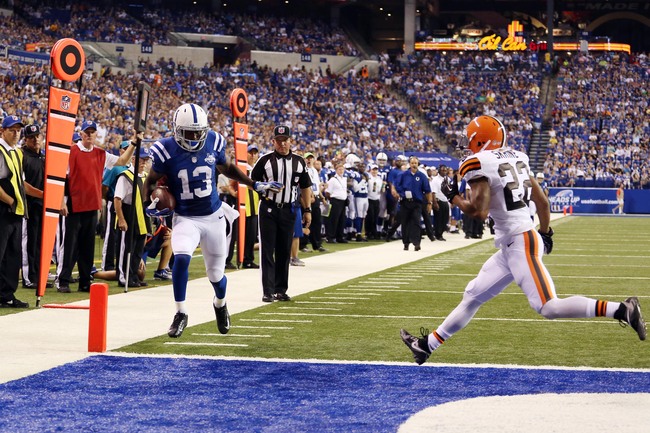 Quarterback – Andrew Luck, Matt Hasselbeck
Running Back – Vick Ballard, Ahmad Bradshaw, Donald Brown
Fullback – Stanley Havili
Wide Receiver – Reggie Wayne, Darrius Heyward-Bey, T.Y. Hilton, Griff Whalen, David Reed
Tight End – Coby Fleener, Dwayne Allen, Justice Cunningham, Jack Doyle
Tackle – Anthony Castonzo, Gosder Cherilus, Jeff Linkenbach,
Guard – Donald Thomas, Mike McGlynn, Hugh Thornton, Joe Reitz
Center – Samson Satele, Khaled Holmes
Defensive End – Cory Redding, Fili Moala
Defensive Tackle – Ricky Jean-Francois, Montori Hughes, Ricardo Mathews
Nose Tackle – Josh Chapman, Aubrayo Franklin
Outside Linebacker – Robert Mathis, Bjoern Werner, Erik Walden, Caesar Rayford
Inside Linebacker – Jerrell Freeman, Pat Angerer, Kavell Conner, Kelvin Sheppard, Mario Harvey
Cornerback – Vontae Davis, Greg Toler, Darius Butler, Cassius Vaughn, Josh Gordy
Safety – Antoine Bethea, LaRon Landry, Joe Lefeged, Delano Howell, Sergio Brown
Kicker – Adam Vinatieri
Punter – Pat McAfee
Holder – Matt Overton
Two additional moves the Colts made were to waive offensive lineman Ben Ijalana and designate offensive tackle Emmett Cleary to the waived-injured list. The move to waive Ijalana was understandable; he suffered a torn ACL the past two seasons and had just not shown the coaching staff enough to warrant keeping him aboard. Cleary cleared waivers, so he has now hit the Injured Reserve list. Many believe this is just a move to keep Cleary around without having to cut him. I am okay with that.
INJURED RESERVE
Fullback – Dan Moore
Guard – Justin Anderson
Outside Linebacker – Justin Hickman, Lawrence Sidbury
Inside Linebacker – Scott Lutrus, Quinton Spears
Rookie safety John Boyett has been placed on the Reserve/Non-Football Injury List which is a pretty smart move. Boyett is coming off of a double-knee surgery and could use all the time he can get to recover. The emergence of Delano Howell has allowed the team to take their time with Boyett, so they designated him to the NFIL. Expect Boyett to play a similar role as Josh Chapman last year – none. Consider it a redshirt year for Boyett.
RESERVE/NON-FOOTBALL INJURY LIST
Safety – John Boyett
LaVon Brazill's suspension may be one of the main reasons the team decided to keep David Reed around instead of Kerwynn Williams. Reed provides depth at a position that needs it while Brazill is serving his four-game suspension.
RESERVE/SUSPENDED BY COMMISSIONER
Wide Receiver – Lavon Brazill
I can't argue with the practice squad for the most part. The Colts announced this morning that they have signed undrafted rookie wide receiver Da'Rick Rogers to their practice squad as the seventh member. Rogers has the ability to be a superstar in the NFL, but has been marred by character concerns since his days in college. Rogers is not a guarantee to make it through and get activated to the active roster, but the Colts will certainly kick the tires. If Rogers pans out and keeps his head on straight, this could be a huge move for the Colts.
I hoped to find Chandler Harnish, Dominique Jones, Daniel Adongo and Josh McNary on it. I think having Sheldon Price on there makes a lot of sense, as well. He has the opportunity to be a good cornerback, but he just needs a lot of work.
I think Thomas Austin is the move most people are wondering about. Was he really good enough to warrant keeping around to groom? In my opinion, Marshay Green and Jeremy Kelley would have been good choices for the practice squad. Kelley has unreal size for a wide receiver, and if he could just be crafted to have NFL wide receiver skills, then he could be a dangerous red zone weapon.
PRACTICE SQUAD
Quarterback – Chandler Harnish
Wide Receiver – Da'Rick Rogers
Tight End – Dominique Jones
Guard – Thomas Austin
Outside Linebacker – Daniel Adongo, Josh McNary
Cornerback – Sheldon Price
Overall, I am very satisfied with this Colts roster. The tough cuts show that they have built quality depth and competition among the majority of the roster. I still believe this is a roster that will carry the Colts back to the playoffs and to contend for the AFC South title. I would expect to see some participants from the practice squad be activated to the active roster at points during the season. It will be an exciting season in Indianapolis – this roster goes to show it.